Beauregard's Blog

The September wine club party is always one of our favorites here at Beauregard Vineyards. It's a special time of year; grapes are being brought in from the vineyards, we have fermentations raging away in the cellar, and it's some of the most pleasant weather on the mountain as summer ends and fall begins. This year we were excited to offer our guests a glimpse of the behind-the-scenes work that goes into our wines.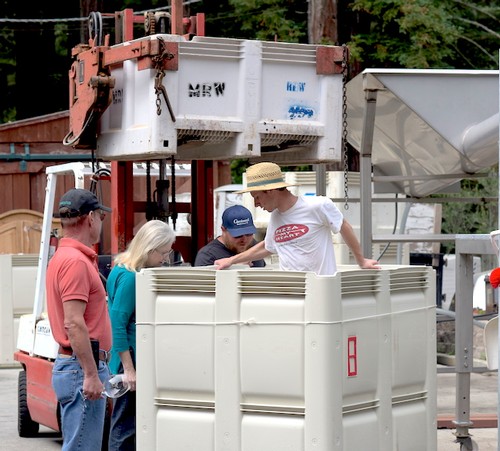 The first pouring station was located up in the cellar, where guests were greeted by the scent of Syrah from Zayante Vineyard fermenting away. While our wine club members sipped on the 2013 Chardonnay at station one, Ryan pressed some Pinot Noir to make his "Happy Wife Rosé," one of Rachel's favorite wines. Club members also got a kick out of seeing Jake foot stomp some whole cluster Pinot Noir. Though the process is a bit more labor-intensive than using the destemming machine, sometimes you just can't beat going old school.
After finishing their Chardonnay, club members wandered down to the redwood grove, where they were served our delicious 2013 Rosé of Syrah along with a plate of amazing food provided by Tabitha Stroup. The food genius behind Friend in Cheeses Jam Co. provided guests with Peruvian pork shoulder tacos, slow braised in oranges, bay Peruvian yellow peppers, onion, and Peruvian white beans (like a fava but smaller), all on a soft corn tortilla, and served on the side with an incredible salad made with organic home-grown heirloom tomatoes from the Beauregarden.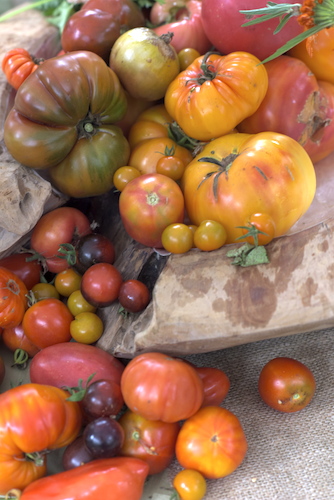 Guests enjoyed their picnic while listening to the groovy sounds of the Matt Conable Band. Inside, they finished at station three, where we were pouring our 2011 Meritage. A blend of 60% Merlot from Zayante Vineyard, and 40% Cabernet Sauvignon from the Beauregard Ranch, this is a perfect wine for any occasion. Drink it soon for the holidays, or hold onto it for years to come.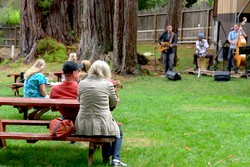 Thanks so much to everyone who turned up for the event! We love our wine club members, and treasure the opportunities that our pick up parties offer us to engage with some of our favorite customers. We hope you enjoy the new releases, and we look forward to seeing you in November, if not sooner.
Enjoying July with the first our 2013 Vintages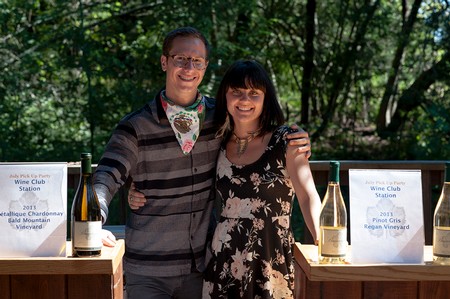 We had the perfect summer weather here in Bonny Doon last weekend for our July Pick Up Party. Our July release included bright, aromatic, whites and our first Pinot Noir produced from the Mount Roberta Vineyard. We drank up the 2013 Chardonnay from the Bald Mountain Vineyard in the stainless steel, Métallique, tradition and our 3rd vintage of 2013 Pinot Gris from the Regan Vineyard. 2013 is quickly showing itself as a killer vintage.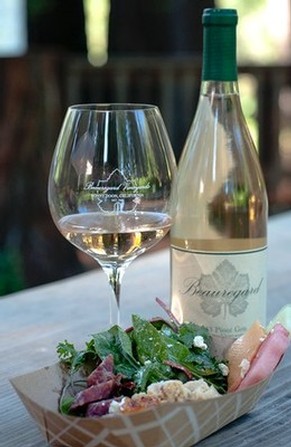 Our chef extraordinaire Tabitha Stroup put together a seasonal picnic style lunch that paired with the bright young whites. Santa Maria Tri Tip crusted in a spicy chili brown sugar with creamy gorgonzola topped with a spicy tomato jelly, heirloom potato salad & a summer melon salad with baby kale and feta cheese.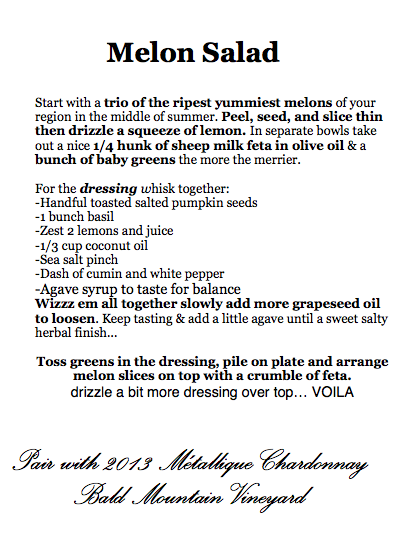 The picnic style lunch let us relax by the creek with the wines and listen to the groovy sounds of the Jewl Sandoval Band. Our wine club members are some of our closest friends and it brings us joy to be able to see our picnic tables full and families enjoying the lawn. Summer is wrapping up and harvest is quickly approaching and when we see you at our next Pick Up Party the crush pad will be busy producing another fantastic vintage from the Santa Cruz Mountains.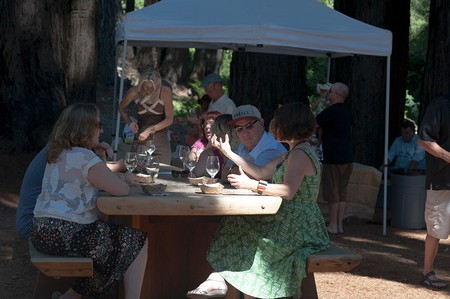 A Summer menu at Beauregard Vineyards
Summer gardens are planted. Grape vines are in full vigor. Here at Beauregard Vineyards we enjoy the long daylight hours by feasting and drinking. Bonny Doon is gifted with an unparalleled microclimate within the Santa Cruz Mountains. It sits above the fog, warmed by abundant sun and cooled by the coast at night. It is a special spot along the California Coast that knows what the Good LIfe is. This became pretty clear to me last weekend during a celebration when Ryan manned the grill. I wanted to share our menu to give a little inspiration for your next BBQ.
This all started a few weeks back when a deer was caught taking advantage of the fresh green foliage of Zayante Vineyard. Unfortunately this is not an uncommon occurrence in vineyards here in the Santa Cruz Mountains. At the Beauregard Ranch we first tried herding them out, but, when all else fails… venison makes a delectable pairing with Cabernet Sauvignon.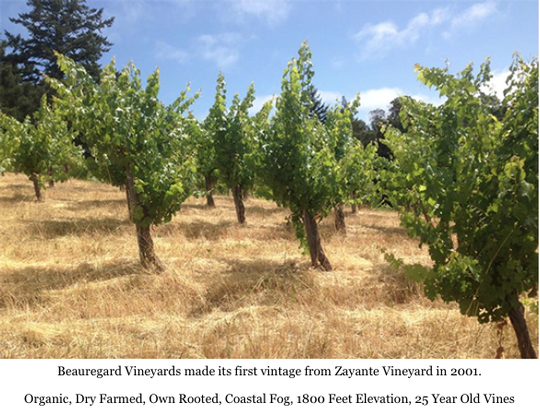 l'apéritif
We started with a sangria by opening 2 bottles of our 2012 dry-style Riesling and 2 bottles of our 2011 late harvest Riesling. We then added choice brandy, fresh picked red fruit (raspberry and strawberry) and mint from the garden.
Drink this sangria while the sun is still high and you need a light refreshing beverage. The mint is the key ingredient here, lifting it into the perfect summer drink.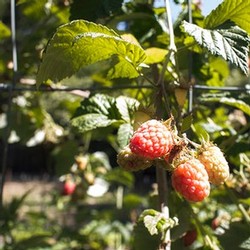 le plat du jour
We had two legs of venison, a birthday, and Father's Day that all came together to kickoff the summer season. The venison soaked in salt brine for 10 days and marinated in Coast Grade Pinot Noir with a saffron rub. Smoked for 12 hours with oak and madrone. The meat was juicy, smoky, and full of flavor.
Living off the land like this is a privilege not enough people enjoy.
plat principal
The main attraction was the pork rib in the homemade raspberry barbecue sauce. Our raspberries were delicious and bountiful this year. We started to harvest the bush early in the morning and ended up with nearly 5 pounds of fruit. While in the garden we also pulled organic garlic and onion. Once in the kitchen we put everything in a food processor and added brown sugar, paprika, red pepper flakes, lemon juice, and balsamic vinegar. Liquefied. This was transferred to the stove stop to reduce for four hours as Ryan carefully crafted the perfect sauce.
vins de terroir
The meats were done. The sun was setting. It was time to open the reds. The 2005's were the all-stars. Personally, I have been dying to try the Beauregard Vineyards 2005 Syrah Zayante Vineyard, with silky tannins and intense deep red fruits. This wine has a leathery complexity that tied perfectly into the raspberry sauce and the ribs.
Next was the 2005 Cabernet Sauvignon Beauregard Ranch which finished with beautiful floral lavender. I never experienced a floral wine like this that balanced with the earthiness of the venison.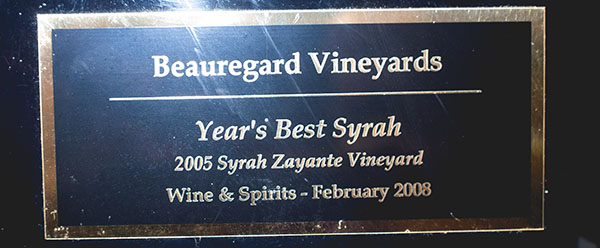 Our little corner of the world is known as the Lost Weekend, and when Ryan started opening up the Pinots, Zinfandel and the magnums I​ knew that getting lost could happen all too easily. But that is what summer is. Evenings that stumble into stars with laughter as Bacchus watches over us from the fire.
July 4th is just around the corner. Before you fire up the grill check what you have in the garden and make sure the cellar is full. Be inspired by the abundance we have around us. Bon Appétit!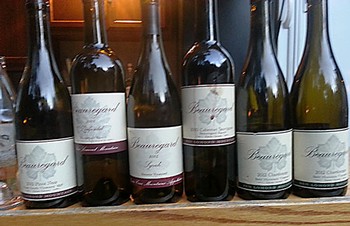 Pork Shoulder served with Corn Crunch
Brine pork in equal parts salt, brown sugar and water
3 Tbs Ginger
3 Tbs Nutmeg
Brine over night
Place pork fat cap side up in a big roasting pan with rack
Bake 30 min at 300 degrees
Pull out and massage 1 Jar Friend In Cheeses Jam Company's FIG N FENNEL Jam
Squeeze the of juice 2 oranges over pork
Covered in foil and place back in oven at 300 degrees for 3 hours
Pull out and drizzle 3 cups of balsamic that has been reduced by a third
Place back in oven for approximately 1 to 2 more hours until pork falls apart
When finished pull apart and may reheat in crock pot for serving.
Place on Corn Crisp and top with sour cream mixed with a touch of brown sugar and enjoy!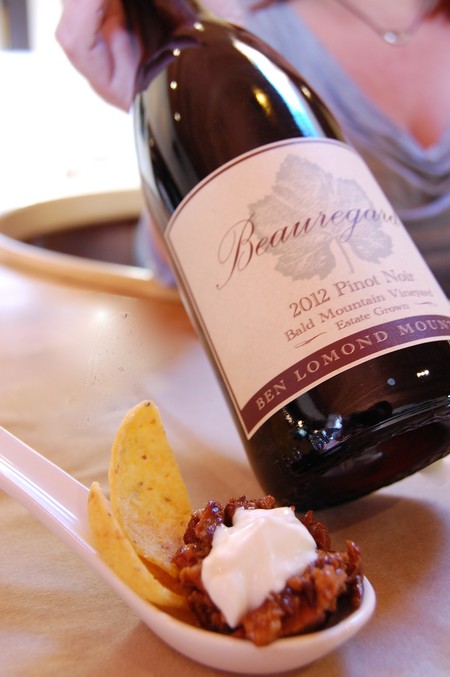 Melon Soup with lemon balm and spicy goat yogurt
Serves 8
Pick the best 5 melons at local farmers market -You choose they all are heaven
Cantaloupe
Crenshaw
Honeydew
Watermelon, etc...
Skin and cube 4 melons in a nice clean big bowl
The remaining ball up with melon baller and freeze, trust me
1 handful of fresh mint from farmers market, garden or your neighbor
Chop add to melon
Big pinch of sea salt (no iodized, stick to sea salt or Kosher)
1/3 cup local honey any flavor in bowl, let your taste guide you
A sprig of fresh thyme in the bowl
A few leaves of lemon balm in the bowl
Let set in fridge over night - Flavors get cozy
Next day
Add one quart of french style goat yogurt (Trader Joes) to the soup
Get your stick blender and whizzz away until smooth and consistent
Taste: Add more honey if not sweet enough or lemon juice if too sweet... let your senses guide you
Soup is done- Place in refrigerator
For the Crema
One pint of sour cream
3 Tbs sugar
Zest juice of 2 lemon
1 Tbs chili powder any kind you choose
Mix up and put aside
Shallow bowl add soup
Pull balls out of freezer add odd number - visually more appealing
Add a dollop or drizzle of spicy crema
Voila...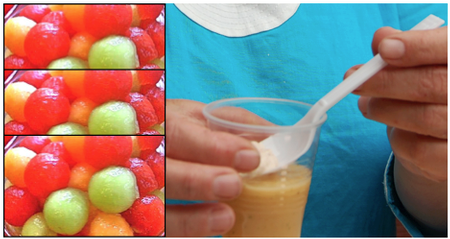 Gazpacho
One bottle of spicy V8
Four seeded diced heirloom tomatoes
One diced and seeded cucumber
One chopped green onion
One diced white onion
Two diced avocado
Zest and juice of two lemons
Pinch of chili flake
Pinch of smoked salt
Pinch white pepper
Pinch of coriander
Chop one cilantro
A good shake of Tapitio
Mix together
Taste and make adjustments if needed
Let set over night so the flavors meld
Serve chilled perhaps with a few chili lime grilled spot prawns, a dollop of sour cream and some blue corn chips
Healthy cool seasonal heaven in a bowl!!
Thank you Tabitha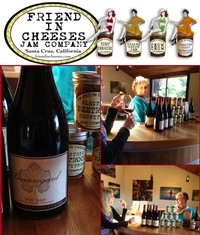 At Beauregard Vineyards we take tradition and sustainability seriously. The Beauregard family's roots in winemaking began in 1949, a little over 15 years after prohibition was lifted. Our winemaker's great grandfather, Amos Beauregard, a retired Sheriff purchased our original estate vineyard in Bonny Doon, CA. The area had a long history of grape growing and wine production dating back to the 1800's. Over the past 60 years the Beauregard family has expanded their estate vineyards and started the family label with a focus on tradition.
One way we hold onto tradition here at Beauregard Vineyards is our old world winemaking style and another is our continued use of natural corks. Cork comes from the bark of the cork oak, which has been considered a nobel tree for thousands of years.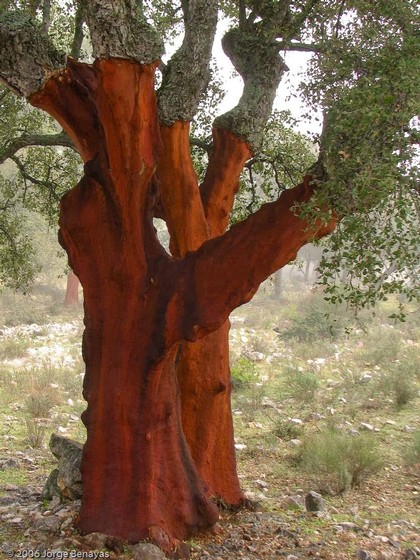 Cork oak grows in Mediterranean regions, Portugal being one of the foremost producers and one of the first cork oak environmental protectors.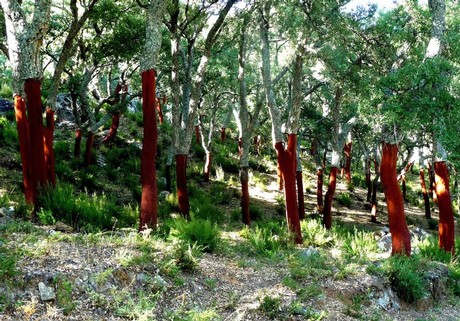 The noble cork oak tree can live on average 150 to 200 years. It takes 25 years for the cork oak truck to produce its cork bark and the first stripping or virgin cork cannot be used for wine corks.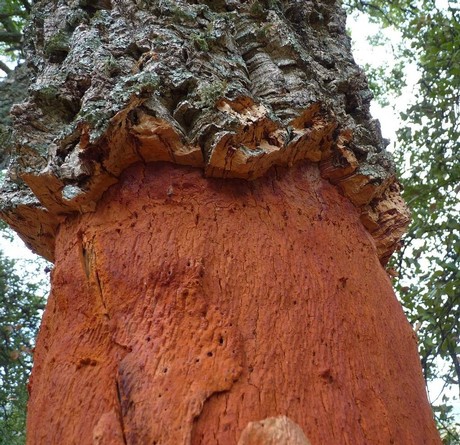 Cork production does not involve the cutting down of any trees. The trees are gently stripped nude of their bark during the summer season.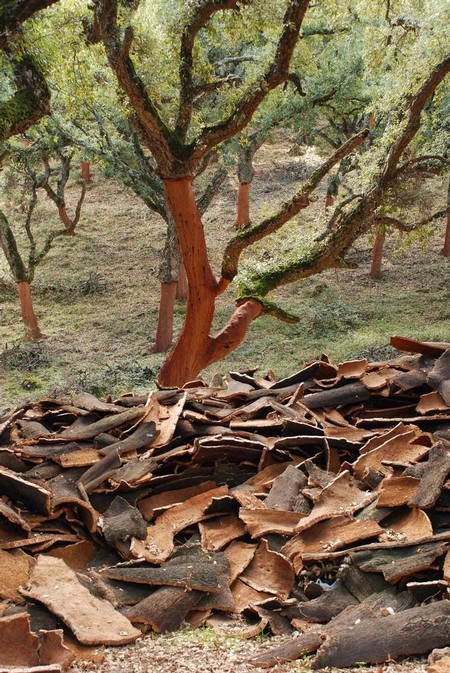 To extract the cork two cuts are made to start, then a series of vertical openings are cut. Extractors must use strength and precision to cut the bark away without damaging the tree.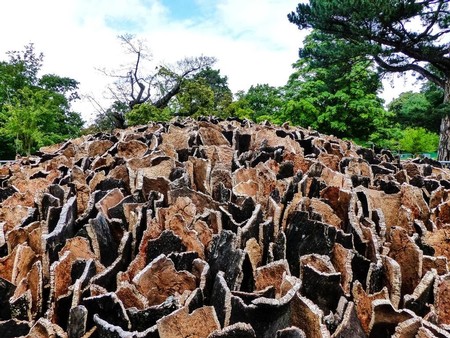 Nine years later these trees will be ready to be stripped again of their cork bark. Each cork oak will be stripped an average of 16 times over the course of its life.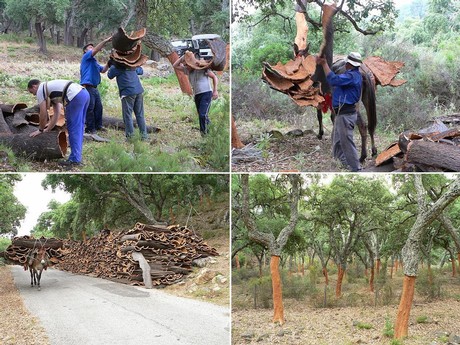 "Approximately 6.6 million acres of Mediterranean cork forest extend across Portugal, Spain, Algeria, Morocco, Italy, Tunisia and France. These oak forests support one of the world's highest levels of forest biodiversity, second only to the Amazonian Rainforest."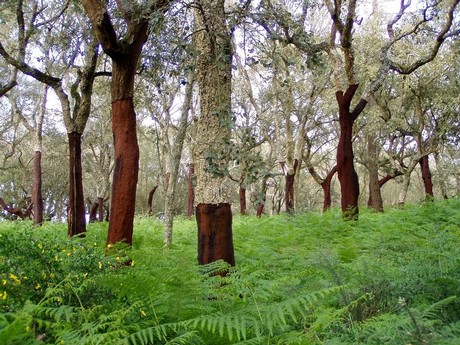 The cork is the most sustainable, ecological, recyclable and biodegradable material used for sealing a wine bottle. Screw caps are the most cost effective enclosure, however they are made from a non-renewable aluminum. Therefore not only is cork the traditional method for wine closures, it remains the most sustainable. With this in mind it will remain Beauregard Vineyards choice enclosure for our wine bottles. Celebrate this choice by popping the cork of a Beauregard wine today!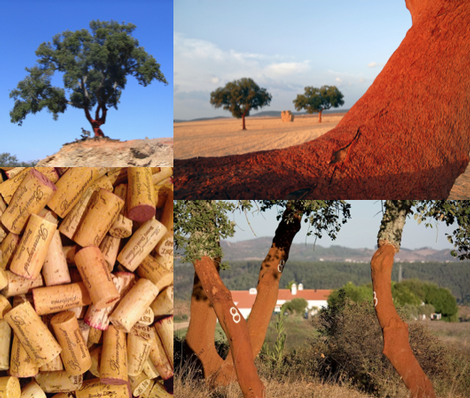 *Facts Courtsey of Cork Forest Conservation Alliance & real cork.org

Here in the Lost Weekend tasting room, we've just released the the new 2012 Pinot Noir and Chardonnay from Bald Mountain Vineyard. These are some of our favorite wines that Beauregard Vineyards produces, and we're always excited to try the new vintages when they're released. This year is no exception, and we're delighted to announce that the 2012 Pinot Noir from Bald Mountain has already received a silver medal and 88 points at the 2013 World Wine Championships' Pinot Competition, hosted by The Beverage Testing Institute at their Chicago tasting center.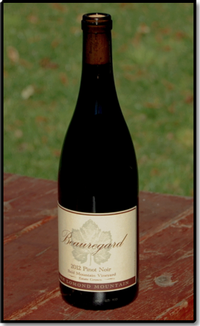 Not only did our 2012 Pinot Noir from the Bald Mountain Vineyard receive a silver medal from The Beverage Testing Institute's 2013 World Wine Championships, but several of our other wines received awards as well.
In the Pinot Competition at the 2013 World Wine Championships, our 2012 Pinot Noir from the Coast Grade Vineyard was awarded a Gold Medal, 90 points and was labeled "Exceptional;" not far behind was our 2012 Pinot Noir from the Beauregard Ranch, which earned a silver medal, 85 points and was lauded as "Highly Recommended."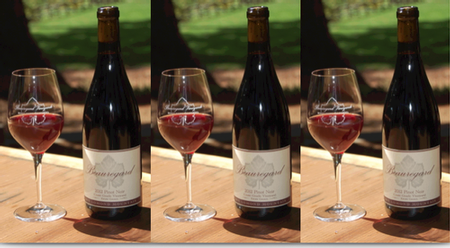 For the Bordeaux Competition, our 2010 Merlot Zayante Vineyard received 91 points, a gold medal, and was recognized as "Exceptional." This lush Merlot additionally earned silver in the 2013 Sunset International Wine Competition.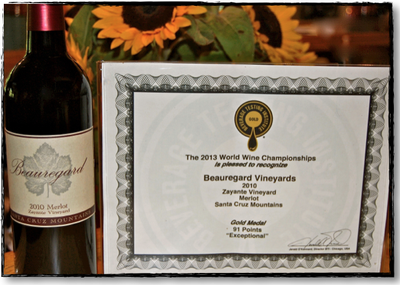 Also in The Beverage Testing Institute's Pinot Competition, our "Highly Recommended" 2012 Pinot Gris Orange Wine received a silver medal and 87 points.

The 2012 Pinot Gris Orange Wine was also among five of our wines to rank among the top 25 out of 135 submissions for the Santa Cruz Mountains Winegrowers Association 2013 Professional Tasting. The wines were reviewed by three separate panels of wine professionals, and ranked among the top 25 were our 2012 Pinot Gris Orange Wine, 2012 Pinot Noir Coast Grade Vineyard, 2012 Saignée of Pinot Noir, 2011 Chardonnay Ben Lomond Mountain and 2011 Barbera.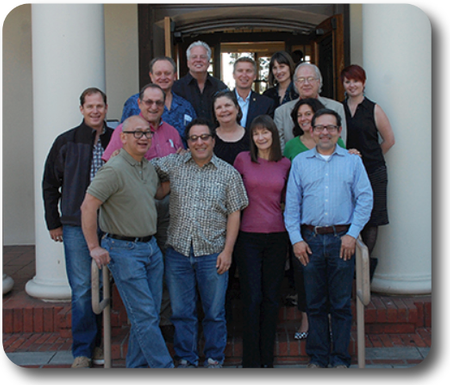 Heading up the coast to San Francisco, our wines once again were well received at the 2013 SF Chronicle Wine Competition. This year we walked away with one gold medal, four silver medals and three bronze medals.
Our gold medal recipient at the 2013 SF Chronicle Wine Competition was our 2011 Pinot Noir from Byington Vineyard, which also received a silver medal last year at the 2013 Sunset International Wine Competition.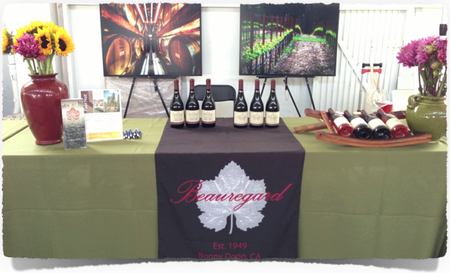 Silver medals at the Chronicle competition were given to our 2009 Chardonnay from Bald Mountain Vineyard, our 2010 Zinfandel from the Beauregard Ranch, the 2011 Pinot Noir from Muns Vineyard and our 2010 Syrah from the Nelson Family Vineyard.
As we reflect on the generous accolades bestowed on our wines over the past year while we write this, we can't help but think about the newest Bald Mountain vintages we've begun pouring in the tasting room. The newly released 2012 Chardonnay from Bald Mountain Vineyard hasn't won any awards yet, but we have high hopes for this delicious wine. Its expressive hints of green apple, bright acidity and a slight chalky minerality reflects the terroir of Bonny Doon—qualities that earned the 2011 vintage of Bald Mountain Chardonnay a gold medal and Best White at the Fifth Annual Palate Press Grand Tasting last year.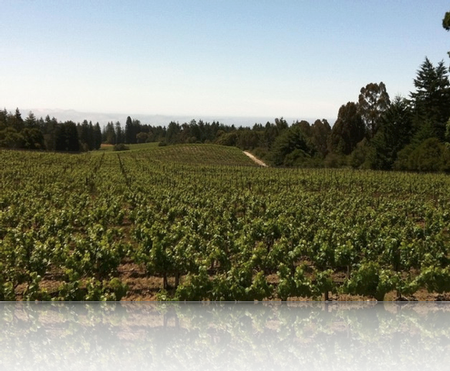 Certified Specialist of Wine, Meg Houstan Maker, in her Palate Press judge's report, wrote that the 2011 Bald Mountain Chard is, "a deft and lively Chardonnay [...] I know the area well, and found the wine readily evoked the misty rolling hills that tumble down to the California coastline in a hamlet called Bonny Doon. It's a wine that's about clarity, refreshment, minerals, and sea air—in short, about its place, and about working with what that place delivers." This is the style of wine we produce at Beauregard Vineyards—wine's that reveal a sense of place—and it's always satisfying when consumers and wine professionals alike tell us we've hit the mark.

2013 was a great year for us here at Beauregard Vineyards. We want to thank everyone who has enjoyed our award-winning wines over the last year, and to the many people involved in hosting these wine competitions. With a handful of new honors in our back pocket, it seems like a good time to pop open an award-winning bottle, enjoy a glass or two, and look forward to the promises of a new year! Thank you all for your support and recognition over the last year. We hope you continue to enjoy our Santa Cruz Mountain wines made with love right here in Bonny Doon.

Beauregard Vineyards planted our newest estate vineyard in 2008 just as we moved our entire operation into Bonny Doon. Since that time visitors and the community alike have watched the vines grow into beautiful rows of four Pinot Noir clones. 2012 was the first harvest from these vines and the four clones and final blend of Pinot Noir were released on October 12th and 13th.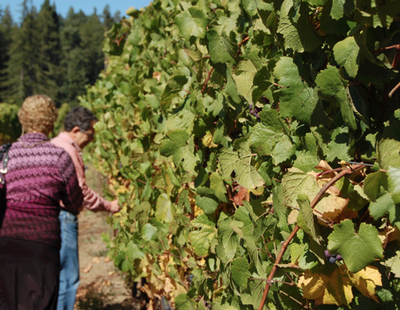 Planted in 2008, Coast Grade Vineyard is named after the original road that led Bonny Dooners to the coast road (now HWY 1) in the late 1800's. The road was later to be called 'the road to Bonny Doon', the name then morphed into Bonny Doon Road. The vineyard is located on the corner of Bonny Doon and Smith Grade road. The terroir of Coast Grade Vineyard is unparalleled by any grape growing site in the world. The vineyard sits at the fog line, roughly three miles from the Pacific Ocean. The extended growing season leads to berries with greater intensity and allows for more terroir to be absorbed into the grapes prior to harvest.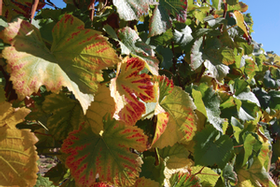 It was a gorgeous weekend in Bonny Doon, with vineyard temperatures in the 70s. The leaves had just started to turn from green to yellow on the vines. Guests arrived and joined us in Redwood Grove to sample our Saignée of Pinot Noir from Coast Grade with a Spicy Spanish Style Chorizo salami from el Sachechiro while waiting for the shuttle to come for a short drive to experience Beauregard's first ever vineyard walking tour.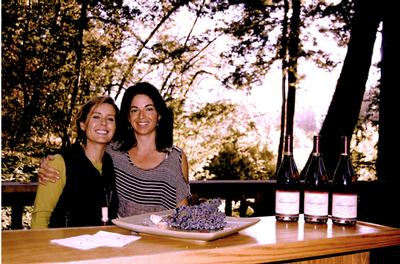 At the meeting of the four corners of Coast Grade Vineyard, guests began with the 115 clone, which has a rather floral and acidic structure; next they tasted the 667, which tends to express more earthy tones; this was followed by 828, which the majority of people found to have the strongest bouquet; last was the Pommard clone, which has the deepest, boldest flavors and darker fruit notes than the three numbered clones. As they tasted each clone, guests could walk the blocks and sample the fruit from the vines.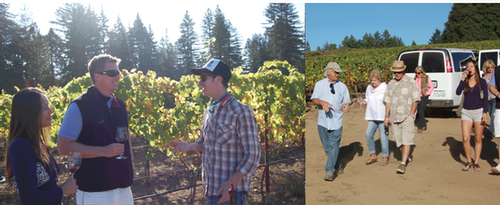 After sampling all four clones of Pinot Noir out in the vineyard, we returned to the tasting room to end with a sample of the Coast Grade Pinot Noir clone blend, paired with a peach & bourbon salami and Chevre pairing.
The event was the first of its kind here at Beauregard Vineyards and it was such a success. Everyone had a great time out in the vineyard. It was fascinating to taste how the different clones influenced the wine. Please come by Saturday or Sunday over the next month and sample the 5 Pinot Noir wines from Coast Grade on a special limited tasting flight. We hope to see you soon!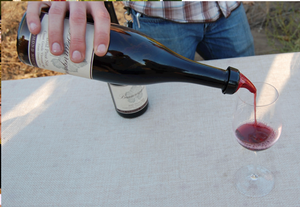 When we drink a glass of wine it's often easy to forget the enormity of the process that went into making the finished product. Last April, after closing the tasting room, Ryan Beauregard invited me to join him in the winery to taste the new stainless steel Chardonnay he was preparing to bottle. From the tank the liquid was bright, almost clear, and when I remarked about the clarity of the wine, he told me that most of the straw-yellow color found in many Chardonnays is from contact with oak barrels.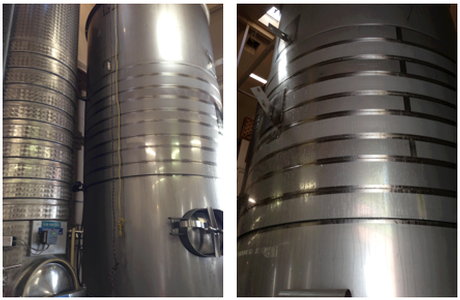 The wine was as cold as the stainless steel tank it was stored in, and when I tasted the dry, refreshing wine, it reminded me of lemon zest, lime blossoms, green apple and clover honey. Unoaked, the Chardonnay was light and clean--there was no toasted or vanilla flavors--and it had a soft acidity that expressed a balanced minerality reminiscent of limestone and graphite, like licking a finger after using a piece of chalk, or wetting the end of a pencil with your tongue.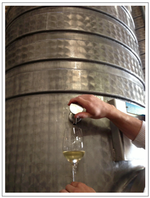 This wine was not the kind of Chardonnay I'm most familiar with, but I enjoyed it immensely. Chardonnay is the most widely planted white grape varietal, and the styles of Chardonnay available vary almost as much as the distinct geographical locals where it is grown. Chardonnay is the principal white grape grown in Burgundy, and Chardonnays from this region in France are called "white Burgundies," which are known for their high acidity and rich minerality.
California now grows even more Chardonnay then France. Though some producers in California aim for more dry, "Burgundian" styles of Chardonnay, many California Chardonnays are known for their rich, ripe, fruit-forward style, often characterized as more tropical tasting than European Chardonnays. About ten years ago, the California Chardonnay market was dominated by wines that had gone through malolactic fermentation and were aged in new oak barrels, giving the wines a buttery, sweet vanilla quality, which many people today still associate with California Chardonnay, though now many winemakers are experimenting with producing stainless steel Chardonnays, using neutral barrels, and even large volume cement tanks.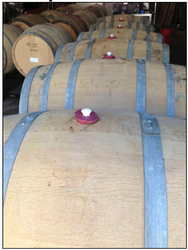 Ryan's new 2012 Métallique Chardonnay contained a wonderful combination of New World fresh fruit flavors and Old World acidity and minerality. Ryan makes several styles of Chardonnay, using new oak, neutral barrels, and stainless steel. When I asked why he makes so many different kinds, he told me that he doesn't only like to drink one style of Chardonnay, that it's a grape with so much to offer, and that he wants to take advantage of that, and to be able to offer a variety of Chardonnays.
Standing in the cellar with the bottling line behind us, the towering silver tanks full of crisp Chardonnay ready to be bottled, labeled and shared with friends in the tasting room, I couldn't help but think that one of the reasons I was enjoying this wine so much was because I had followed its development. I'd seen the grapes brought into the cellar to ferment months earlier, I'd talked to Ryan about his decision to use the stainless steel tank, rather than oak barrels, to ferment the juice, and had tasted the wine straight from the tank. There is something to be said about knowing where your wine comes from, and with this in mind, I highly recommend that anyone interested in learning more about the Beauregard wines should check out our new Cellar Tours that are now offered at noon by appointment only Saturday through Tuesday. The newly released 2012 Métallique is drinking even better now that it has spent a little time in the bottle, so come into the tasting room soon to try out our new stainless steel Chardonnay and let me know what you think!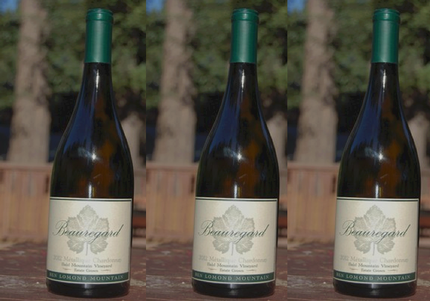 Harvest is only a few weeks away and Ryan, our winemaker extraordinaire, is gearing up. Today we walked off the winery property to Coast Grade Vineyard next door. Coast Grade is our newest estate vineyard planted in 2008 with four clones of Pinot Noir. 2013 will be the second vintage of grapes we will have harvested from these vines. Ryan is on a harvest preparation mission to collect sample clusters from each of the 4 blocks in the vineyard.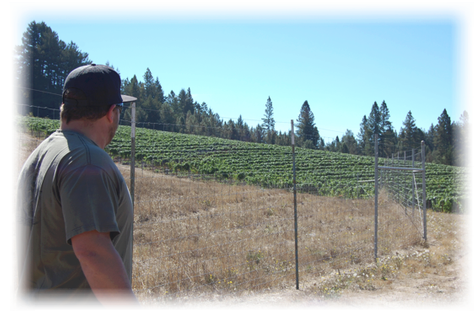 As we reach the vineyard gate Ryan spots a small bobcat running across the field at Coast Grade. It is too fast to catch a photo and we continue on. We begin our sampling in the top eastern corner of the vineyard along the rows of Pinot Noir, Pommard clone. Ryan explains that we need to draw an imaginary graph and go through to select a fair sample of clusters throughout this grid. "I do whole cluster samples, this gives a more accurate reading of the sugar and pH levels."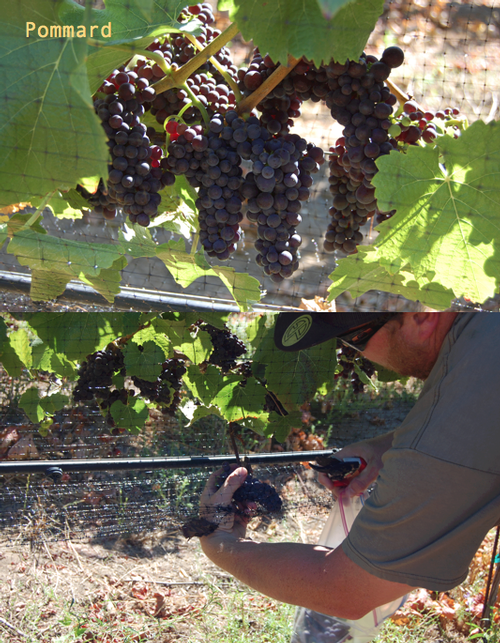 The clusters have gone through vérasion and are now covered in netting to keep the birds out, but lucky this doesn't stop Ryan from collecting samples. Pinot Noir is a grape varietal that is known for its proclivity to mutate and has generated more clones, or genetically unique subtypes, than any other grape varietal. The Pommard clone received its name from the place it was originally sourced and identified, Chateau de Pommard in Burgundy, France. In our 2012 Pinot Noir from Coast Grade Vineyard the blend is Pommard driven to be a lush and earthy wine with dark fruit.
The next block we enter is the 828 clone as we head through the vineyard towards Smith Grade Road. These clusters are big and lavish. Ryan takes a moment to point out some key factors about how the vines were planted and are maintained.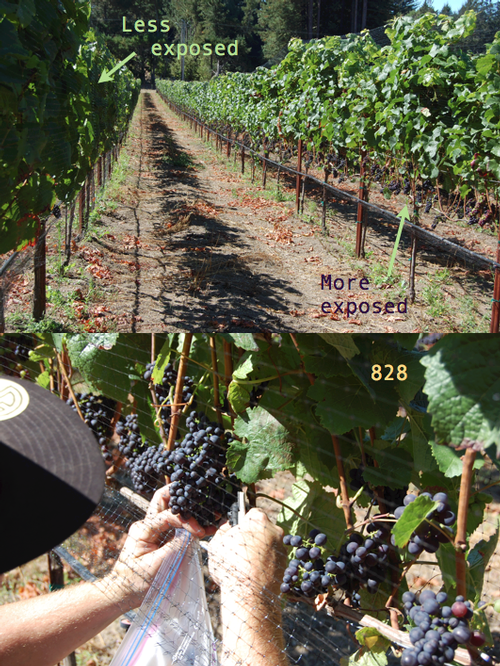 "The vineyard is planted in North to South rows. This allows for even sun. On the eastern side of the vine the leaves are thinner and the fruit is more exposed to the early foggy sunlight and on the west side of the vines there is more leaf coverage to protect the grapes from the midday sun."
The 828 clone is a Dijon clone, meaning it was identified by the University of Dijon in France. We finish collecting samples in the lower blocks of our 115 clones and the 667 clones, which are two of the most popular Pinot Noir clones according to Jim Beauregard. Both 115 and 667 are also Dijon clones which tend to have an earthiness, spices, red fruit and soft tannins.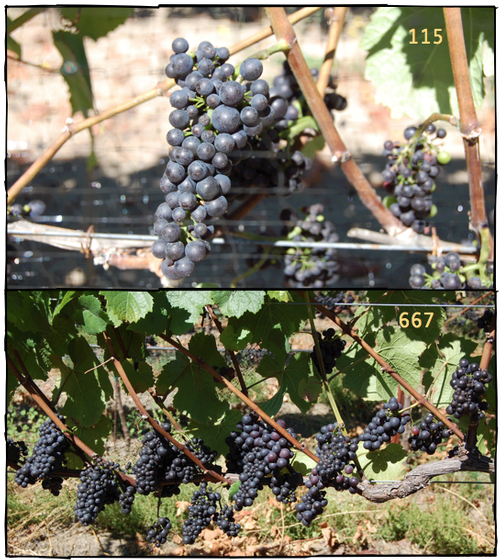 As we begin our return from our sunny late morning walk we are greeted by Ryan's wife, Rachel and their girls. The girls have been collecting quartz gemstones on the side of the vineyard and they are happy to show off their "crystals."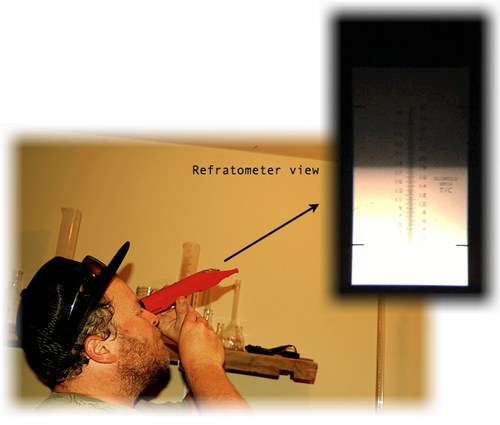 Ryan continues to explain that he does not simply take a refratometer to measure the sugar/brix levels into the vineyard to sample from individual grapes.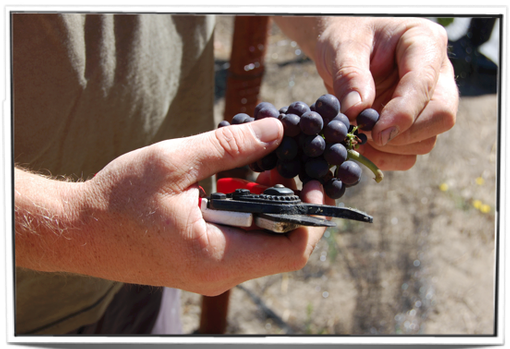 He points out that even on a single cluster there are size variations and other factors for each grape that could result in inaccuracies. Therefore, we all set down in the shade with the sample bags and pop grapes from the four separate blocks making a juice to sample sugar and pH readings. ​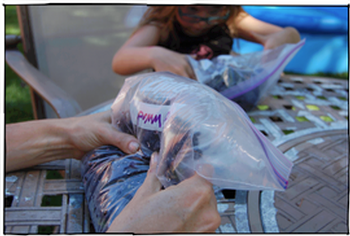 In Ryan's lab we test each of the clones. The end result is: Pommard 18.2 brix, 828 19.8 brix, 115 18.0 brix, and 667 17.2 brix with the pH's ranging from 3.15 to 3.20. We usually harvest at 23 to 25 brix - we are almost there.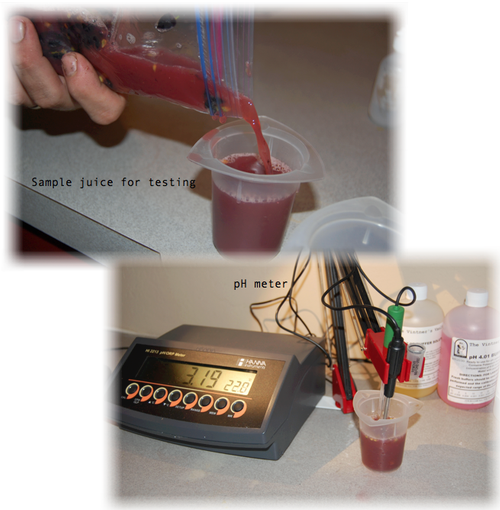 Be sure to join us October 5th & 6th for our first release of the Pinot Noir clones from Coast Grade Vineyard!


There's not much better than when food and wine are paired together. At Beauregard Vineyards, one of our favorite aspects about pairings is that they allow us to manipulate our palate. There's so many different ways to pair food and wine—sweet and savory, acidic and salty—the different ways that we can work with weight, richness, fruitiness, etc. is astounding. Our staff don't miss a beat in taking advantage of the many ways to pair food and wine. Here they have shared their fondest memories and a recipe or two!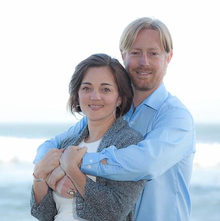 My most memorable experience at Beauregard Vineyards was the day I met my future husband. I was a recent club member, and I came up to the tasting room with a group of friends for the 2009 fall Pickup Party. I was excited to taste the new wines paired with food from Blackboard Catering, the winners of the recent Santa Cruz Clam Chowder Cook-off, and was pleasantly surprised to meet the owners, Clint and Andy. Clint and I connect at once and spent a large part of the afternoon sipping wine together, eating chowder, and tasting Tabitha's wonderful goodies. Since that time we have had many wonderful memories here and strengthened many relationships including our own. This is a magical place where the quality of the wine is equaled only by the quality of the people that it attracts. As far a recipe, I don't think Clint is ready to pass on his award winning chowder.
—Jada
Beauergard Vineyards Accounting Specialist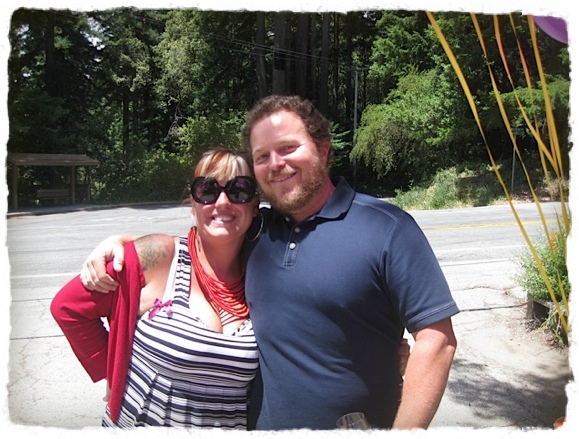 Its funny. Im not exactly sure how Ryan and I met...but long long ago when the Beauregard tasting room was on the wharf, two people started a friendship that has lasted the test of both our personalities...it began with a Beauregard Chardonnay that contained hints of chartreuse glistening in the glass with a sparkle in its eye like a naughty boy with grass stains on his knees...a super nova of tropical fruit jumped in my lap after the first pass of my nose...then the banana bread promise grew as she opened herself up. At the time, Ryan and I were noshing on some St Pats from Cowgirl Creamery, talking nonsense and dreams. Sitting on the couch looking over our bay I fell in love with Beauregard wines...and Ryan. As a winemaker, Ryan knows when to back off and knows when to intervene—a talent lost by many when it comes to the mighty grape.
Nine years later, I love Ryan's wines more than ever, and have begun a jam company with him and his tribe as my test tasters. We have evolved together and realized our dreams on this little stretch of coast we call home.
Thats my story and I'm stickin' to it.....
—Tabitha
Beauergard Vineyards Food Specialist & Owner of Friend In Cheeses Jam Company
Let's be frank: Ryan makes great wine. Although I enjoy all of his wines, I do have some preferences. The 2011 Chardonnay from Bald Mountain Vineyard is my current favorite. When I first sipped this wine, I thought it was French. It blew my mind. It is the most refreshing, vibrant, balanced and clean California Chardonnay I've ever tried. I'm smitten. I drink it by itself, but I cannot wait to pair it up with some delicious food. I'm thinking dungeness crab and/or oysters?!
—Stefano
Beauregard Vineyards Tasting Room Associate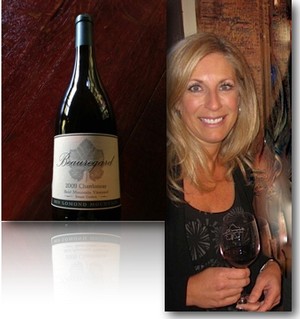 I was always a fan of Chardonnays until the trend of big buttery, oaky Chardonnays dominated the market. Then about four years ago a friend of mine introduced me to a Beauregard Vineyards Bald Mountain Chardonnay, and my love of Chardonnays was rekindled. The beautiful, minimally-manipulated Chardonnays that Ryan makes allow for the true nuances of the fruit to come through in a way that make the wine very food friendly. Scallops are one of my favorite foods to pair with the 2009 Bald Mountain Vineyard Chardonnay.
—Suzanne
Beauregard Vineyards Direct to Consumer Manager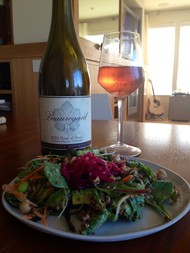 I love Rosé, and I'm captivated by the 2010 Rosé of Syrah from the Nelson Family Vineyard. It is lush, refined and perfect for summer. Nearly everyday I eat salad, and this Rosé goes with every incarnation of salad I consume from hippy salads topped with crunchy seaweed and kale, to heartier salads filled with grilled chicken, avocado and romaine. Quite simply, it is a fantastic wine for summertime cuisine.
—Pamala
Beauregard Vineyards Tasting Room Associate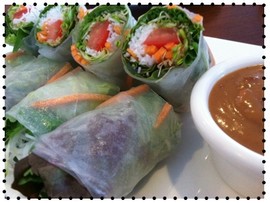 Beauregard Vineyards is the place where I took my love of wine to a passion for Chardonnay and Pinot Noir. A favorite of mine and my friends was the 2006 Santa Cruz Mountain Chardonnay. We called it our "Sushi wine" and it went great with homemade sushi rolls and fresh Thai Spring rolls with peanut sauce! These nights cooking with fresh ingredients and outstanding Chardonnay were priceless. So grab some seaweed, a bamboo rolling mat, sticky rice and a bottle of Beauregard Chardonnay today!
—Heather
Beauregard Vineyards Online Media/eCommerce & Outreach Director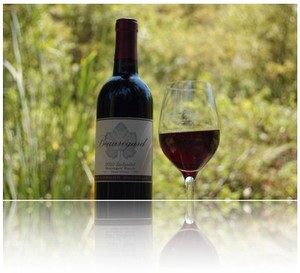 Perhaps my favorite simple, yet exceptional food and wine pairing here at Beauregard Vineyards was when my coworker Lonny brought a surprise for after work not long after the release the 2010 Beauregard Ranch Zinfandel. After we closed down the bar, Lonny poured us each a small glass of the Zin, and brought out a plate he'd hidden in the fridge. On the plate was a wedge of Humboldt Fog, one of my favorite cheeses. The pairing of the rich and herbal goat cheese with the cool-climate, earthy Zinfandel was breathtaking. In one bite it was as if I were sitting on the edge of a meadow, surrounded by dry brush and brambles, picnicking in another place and time. The best pairings have this ability I think, to capture our senses and to pull us out of the present. By choosing what to eat with what to drink we take gastronomy into our own hands, and by doing so we become the curators of an experience that extends beyond the boundaries we are normally confined to each day into the realm of Dionysian pleasure.
—Jake
Beauregard Vineyards Tasting Room Associate
2010 Rosé of Syrah with Smoked Salmon and a dill creme fraiche
1/2 cup creme fraiche
1/2 bunch fresh dill from Farmers Market
1/2 lemon juiced
4 cornichons finely chopped
Mix all ingredients in bowl
1/2 pound of smoked salmon
Slice smoked salmon and serve with extra cornichons and 2010 Rosé of Syrah
—Stefano
Beauregard Vineyards Tasting Room Associate