September 30, 2014 | Jake Young
September 2014 Pick Up Party
The September wine club party is always one of our favorites here at Beauregard Vineyards. It's a special time of year; grapes are being brought in from the vineyards, we have fermentations raging away in the cellar, and it's some of the most pleasant weather on the mountain as summer ends and fall begins. This year we were excited to offer our guests a glimpse of the behind-the-scenes work that goes into our wines.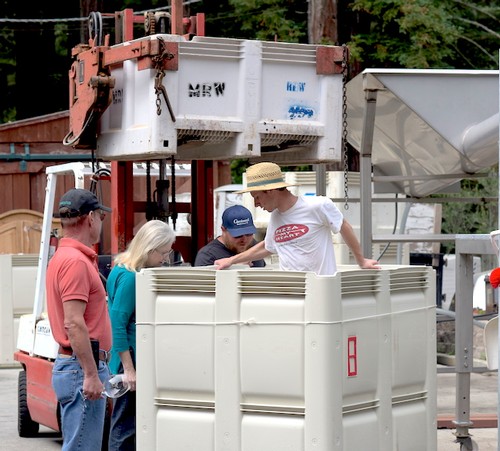 The first pouring station was located up in the cellar, where guests were greeted by the scent of Syrah from Zayante Vineyard fermenting away. While our wine club members sipped on the 2013 Chardonnay at station one, Ryan pressed some Pinot Noir to make his "Happy Wife Rosé," one of Rachel's favorite wines. Club members also got a kick out of seeing Jake foot stomp some whole cluster Pinot Noir. Though the process is a bit more labor-intensive than using the destemming machine, sometimes you just can't beat going old school.
After finishing their Chardonnay, club members wandered down to the redwood grove, where they were served our delicious 2013 Rosé of Syrah along with a plate of amazing food provided by Tabitha Stroup. The food genius behind Friend in Cheeses Jam Co. provided guests with Peruvian pork shoulder tacos, slow braised in oranges, bay Peruvian yellow peppers, onion, and Peruvian white beans (like a fava but smaller), all on a soft corn tortilla, and served on the side with an incredible salad made with organic home-grown heirloom tomatoes from the Beauregarden.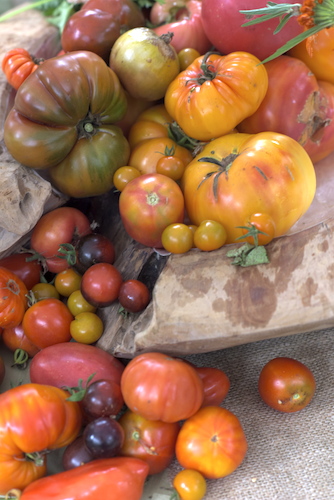 Guests enjoyed their picnic while listening to the groovy sounds of the Matt Conable Band. Inside, they finished at station three, where we were pouring our 2011 Meritage. A blend of 60% Merlot from Zayante Vineyard, and 40% Cabernet Sauvignon from the Beauregard Ranch, this is a perfect wine for any occasion. Drink it soon for the holidays, or hold onto it for years to come.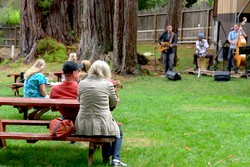 Thanks so much to everyone who turned up for the event! We love our wine club members, and treasure the opportunities that our pick up parties offer us to engage with some of our favorite customers. We hope you enjoy the new releases, and we look forward to seeing you in November, if not sooner.
Comments
Commenting has been turned off.