September 17, 2013 | Jake Young
Unoaked: Following the Trail of a Stainless Steel Chardonnay
When we drink a glass of wine it's often easy to forget the enormity of the process that went into making the finished product. Last April, after closing the tasting room, Ryan Beauregard invited me to join him in the winery to taste the new stainless steel Chardonnay he was preparing to bottle. From the tank the liquid was bright, almost clear, and when I remarked about the clarity of the wine, he told me that most of the straw-yellow color found in many Chardonnays is from contact with oak barrels.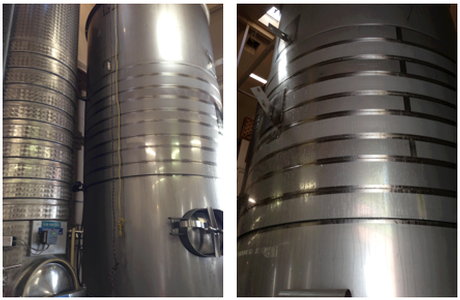 The wine was as cold as the stainless steel tank it was stored in, and when I tasted the dry, refreshing wine, it reminded me of lemon zest, lime blossoms, green apple and clover honey. Unoaked, the Chardonnay was light and clean--there was no toasted or vanilla flavors--and it had a soft acidity that expressed a balanced minerality reminiscent of limestone and graphite, like licking a finger after using a piece of chalk, or wetting the end of a pencil with your tongue.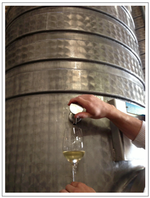 This wine was not the kind of Chardonnay I'm most familiar with, but I enjoyed it immensely. Chardonnay is the most widely planted white grape varietal, and the styles of Chardonnay available vary almost as much as the distinct geographical locals where it is grown. Chardonnay is the principal white grape grown in Burgundy, and Chardonnays from this region in France are called "white Burgundies," which are known for their high acidity and rich minerality.
California now grows even more Chardonnay then France. Though some producers in California aim for more dry, "Burgundian" styles of Chardonnay, many California Chardonnays are known for their rich, ripe, fruit-forward style, often characterized as more tropical tasting than European Chardonnays. About ten years ago, the California Chardonnay market was dominated by wines that had gone through malolactic fermentation and were aged in new oak barrels, giving the wines a buttery, sweet vanilla quality, which many people today still associate with California Chardonnay, though now many winemakers are experimenting with producing stainless steel Chardonnays, using neutral barrels, and even large volume cement tanks.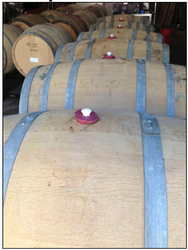 Ryan's new 2012 Métallique Chardonnay contained a wonderful combination of New World fresh fruit flavors and Old World acidity and minerality. Ryan makes several styles of Chardonnay, using new oak, neutral barrels, and stainless steel. When I asked why he makes so many different kinds, he told me that he doesn't only like to drink one style of Chardonnay, that it's a grape with so much to offer, and that he wants to take advantage of that, and to be able to offer a variety of Chardonnays.
Standing in the cellar with the bottling line behind us, the towering silver tanks full of crisp Chardonnay ready to be bottled, labeled and shared with friends in the tasting room, I couldn't help but think that one of the reasons I was enjoying this wine so much was because I had followed its development. I'd seen the grapes brought into the cellar to ferment months earlier, I'd talked to Ryan about his decision to use the stainless steel tank, rather than oak barrels, to ferment the juice, and had tasted the wine straight from the tank. There is something to be said about knowing where your wine comes from, and with this in mind, I highly recommend that anyone interested in learning more about the Beauregard wines should check out our new Cellar Tours that are now offered at noon by appointment only Saturday through Tuesday. The newly released 2012 Métallique is drinking even better now that it has spent a little time in the bottle, so come into the tasting room soon to try out our new stainless steel Chardonnay and let me know what you think!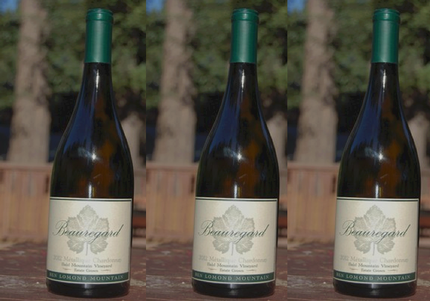 Comments
Commenting has been turned off.