Beauregard's Blog

Pork Shoulder served with Corn Crunch
Brine pork in equal parts salt, brown sugar and water
3 Tbs Ginger
3 Tbs Nutmeg
Brine over night
Place pork fat cap side up in a big roasting pan with rack
Bake 30 min at 300 degrees
Pull out and massage 1 Jar Friend In Cheeses Jam Company's FIG N FENNEL Jam
Squeeze the of juice 2 oranges over pork
Covered in foil and place back in oven at 300 degrees for 3 hours
Pull out and drizzle 3 cups of balsamic that has been reduced by a third
Place back in oven for approximately 1 to 2 more hours until pork falls apart
When finished pull apart and may reheat in crock pot for serving.
Place on Corn Crisp and top with sour cream mixed with a touch of brown sugar and enjoy!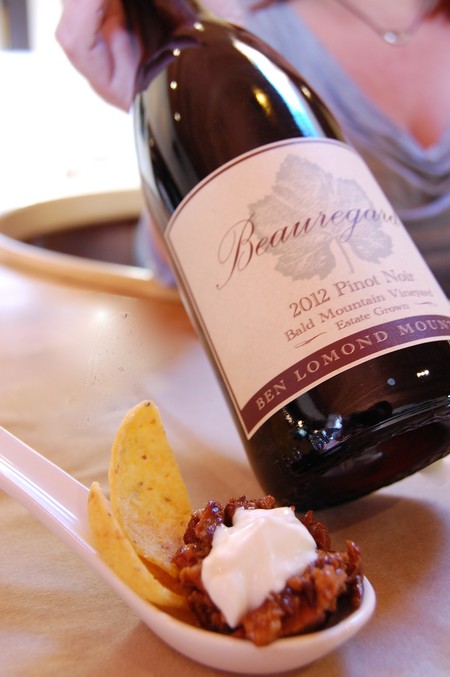 Melon Soup with lemon balm and spicy goat yogurt
Serves 8
Pick the best 5 melons at local farmers market -You choose they all are heaven
Cantaloupe
Crenshaw
Honeydew
Watermelon, etc...
Skin and cube 4 melons in a nice clean big bowl
The remaining ball up with melon baller and freeze, trust me
1 handful of fresh mint from farmers market, garden or your neighbor
Chop add to melon
Big pinch of sea salt (no iodized, stick to sea salt or Kosher)
1/3 cup local honey any flavor in bowl, let your taste guide you
A sprig of fresh thyme in the bowl
A few leaves of lemon balm in the bowl
Let set in fridge over night - Flavors get cozy
Next day
Add one quart of french style goat yogurt (Trader Joes) to the soup
Get your stick blender and whizzz away until smooth and consistent
Taste: Add more honey if not sweet enough or lemon juice if too sweet... let your senses guide you
Soup is done- Place in refrigerator
For the Crema
One pint of sour cream
3 Tbs sugar
Zest juice of 2 lemon
1 Tbs chili powder any kind you choose
Mix up and put aside
Shallow bowl add soup
Pull balls out of freezer add odd number - visually more appealing
Add a dollop or drizzle of spicy crema
Voila...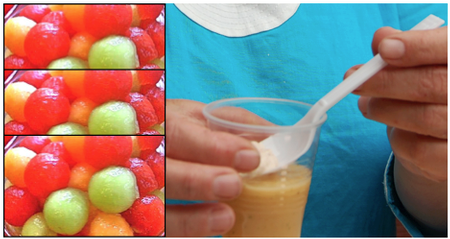 Gazpacho
One bottle of spicy V8
Four seeded diced heirloom tomatoes
One diced and seeded cucumber
One chopped green onion
One diced white onion
Two diced avocado
Zest and juice of two lemons
Pinch of chili flake
Pinch of smoked salt
Pinch white pepper
Pinch of coriander
Chop one cilantro
A good shake of Tapitio
Mix together
Taste and make adjustments if needed
Let set over night so the flavors meld
Serve chilled perhaps with a few chili lime grilled spot prawns, a dollop of sour cream and some blue corn chips
Healthy cool seasonal heaven in a bowl!!
Thank you Tabitha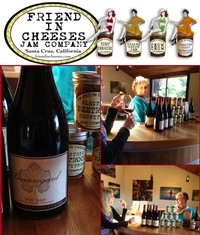 At Beauregard Vineyards we take tradition and sustainability seriously. The Beauregard family's roots in winemaking began in 1949, a little over 15 years after prohibition was lifted. Our winemaker's great grandfather, Amos Beauregard, a retired Sheriff purchased our original estate vineyard in Bonny Doon, CA. The area had a long history of grape growing and wine production dating back to the 1800's. Over the past 60 years the Beauregard family has expanded their estate vineyards and started the family label with a focus on tradition.
One way we hold onto tradition here at Beauregard Vineyards is our old world winemaking style and another is our continued use of natural corks. Cork comes from the bark of the cork oak, which has been considered a nobel tree for thousands of years.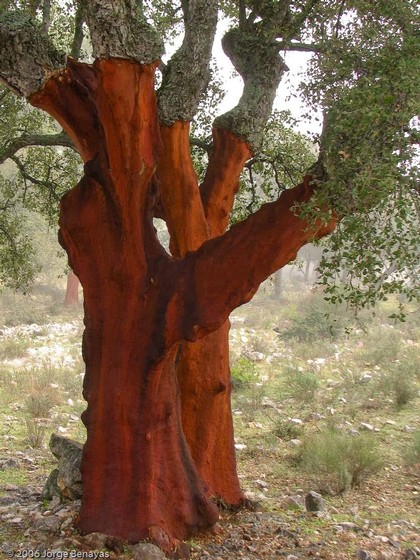 Cork oak grows in Mediterranean regions, Portugal being one of the foremost producers and one of the first cork oak environmental protectors.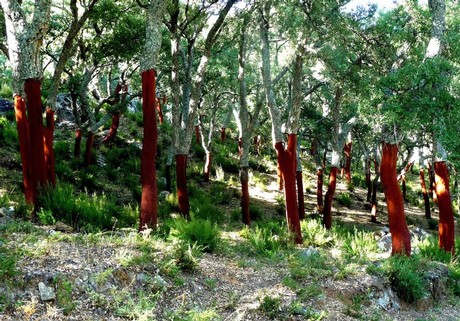 The noble cork oak tree can live on average 150 to 200 years. It takes 25 years for the cork oak truck to produce its cork bark and the first stripping or virgin cork cannot be used for wine corks.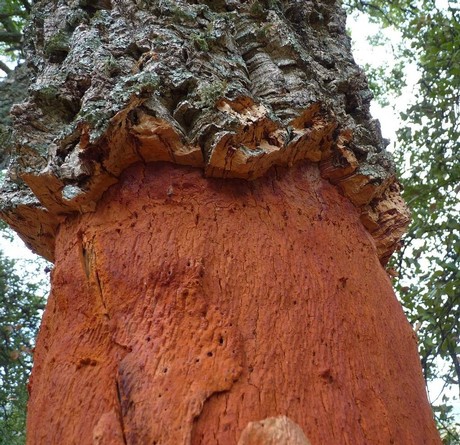 Cork production does not involve the cutting down of any trees. The trees are gently stripped nude of their bark during the summer season.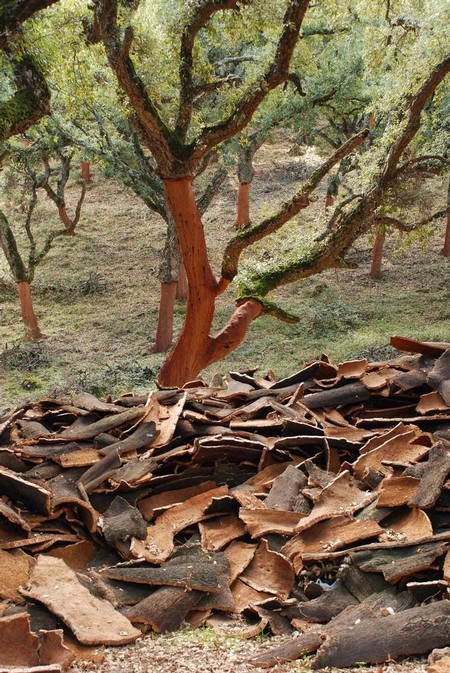 To extract the cork two cuts are made to start, then a series of vertical openings are cut. Extractors must use strength and precision to cut the bark away without damaging the tree.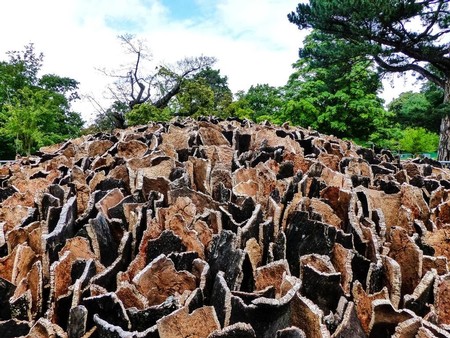 Nine years later these trees will be ready to be stripped again of their cork bark. Each cork oak will be stripped an average of 16 times over the course of its life.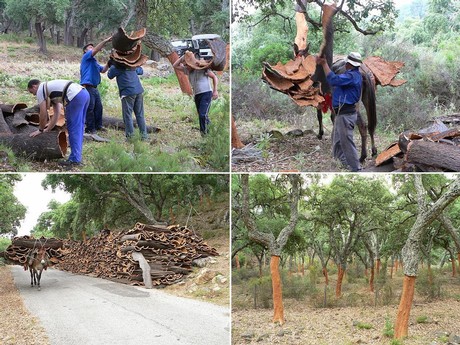 "Approximately 6.6 million acres of Mediterranean cork forest extend across Portugal, Spain, Algeria, Morocco, Italy, Tunisia and France. These oak forests support one of the world's highest levels of forest biodiversity, second only to the Amazonian Rainforest."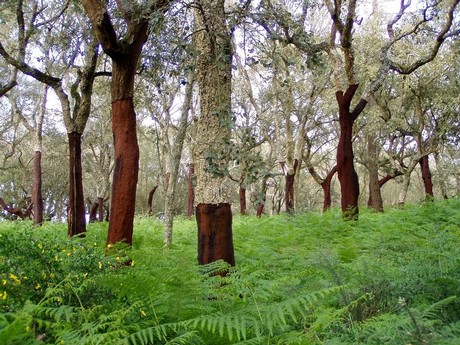 The cork is the most sustainable, ecological, recyclable and biodegradable material used for sealing a wine bottle. Screw caps are the most cost effective enclosure, however they are made from a non-renewable aluminum. Therefore not only is cork the traditional method for wine closures, it remains the most sustainable. With this in mind it will remain Beauregard Vineyards choice enclosure for our wine bottles. Celebrate this choice by popping the cork of a Beauregard wine today!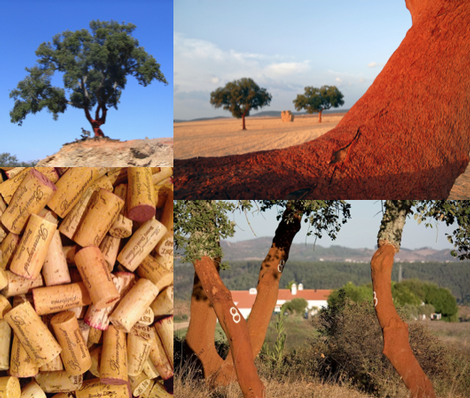 *Facts Courtsey of Cork Forest Conservation Alliance & real cork.org

Beauregard Vineyards planted our newest estate vineyard in 2008 just as we moved our entire operation into Bonny Doon. Since that time visitors and the community alike have watched the vines grow into beautiful rows of four Pinot Noir clones. 2012 was the first harvest from these vines and the four clones and final blend of Pinot Noir were released on October 12th and 13th.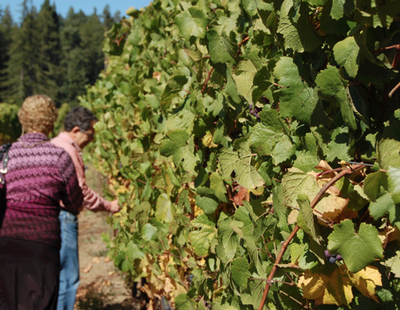 Planted in 2008, Coast Grade Vineyard is named after the original road that led Bonny Dooners to the coast road (now HWY 1) in the late 1800's. The road was later to be called 'the road to Bonny Doon', the name then morphed into Bonny Doon Road. The vineyard is located on the corner of Bonny Doon and Smith Grade road. The terroir of Coast Grade Vineyard is unparalleled by any grape growing site in the world. The vineyard sits at the fog line, roughly three miles from the Pacific Ocean. The extended growing season leads to berries with greater intensity and allows for more terroir to be absorbed into the grapes prior to harvest.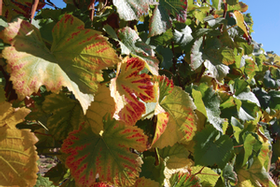 It was a gorgeous weekend in Bonny Doon, with vineyard temperatures in the 70s. The leaves had just started to turn from green to yellow on the vines. Guests arrived and joined us in Redwood Grove to sample our Saignée of Pinot Noir from Coast Grade with a Spicy Spanish Style Chorizo salami from el Sachechiro while waiting for the shuttle to come for a short drive to experience Beauregard's first ever vineyard walking tour.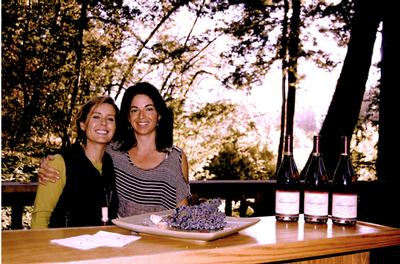 At the meeting of the four corners of Coast Grade Vineyard, guests began with the 115 clone, which has a rather floral and acidic structure; next they tasted the 667, which tends to express more earthy tones; this was followed by 828, which the majority of people found to have the strongest bouquet; last was the Pommard clone, which has the deepest, boldest flavors and darker fruit notes than the three numbered clones. As they tasted each clone, guests could walk the blocks and sample the fruit from the vines.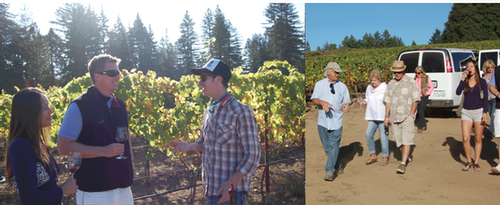 After sampling all four clones of Pinot Noir out in the vineyard, we returned to the tasting room to end with a sample of the Coast Grade Pinot Noir clone blend, paired with a peach & bourbon salami and Chevre pairing.
The event was the first of its kind here at Beauregard Vineyards and it was such a success. Everyone had a great time out in the vineyard. It was fascinating to taste how the different clones influenced the wine. Please come by Saturday or Sunday over the next month and sample the 5 Pinot Noir wines from Coast Grade on a special limited tasting flight. We hope to see you soon!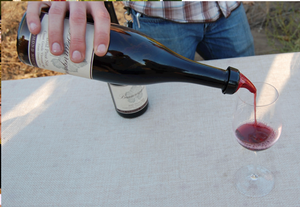 Harvest is only a few weeks away and Ryan, our winemaker extraordinaire, is gearing up. Today we walked off the winery property to Coast Grade Vineyard next door. Coast Grade is our newest estate vineyard planted in 2008 with four clones of Pinot Noir. 2013 will be the second vintage of grapes we will have harvested from these vines. Ryan is on a harvest preparation mission to collect sample clusters from each of the 4 blocks in the vineyard.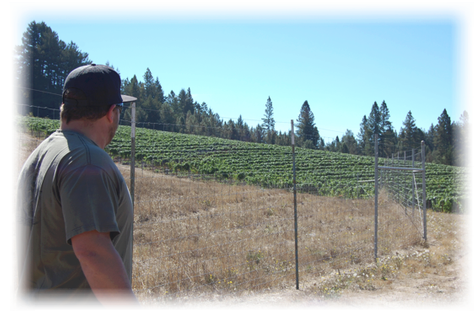 As we reach the vineyard gate Ryan spots a small bobcat running across the field at Coast Grade. It is too fast to catch a photo and we continue on. We begin our sampling in the top eastern corner of the vineyard along the rows of Pinot Noir, Pommard clone. Ryan explains that we need to draw an imaginary graph and go through to select a fair sample of clusters throughout this grid. "I do whole cluster samples, this gives a more accurate reading of the sugar and pH levels."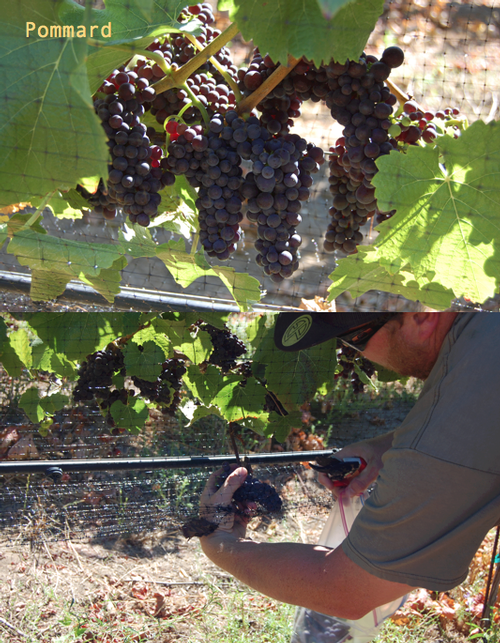 The clusters have gone through vérasion and are now covered in netting to keep the birds out, but lucky this doesn't stop Ryan from collecting samples. Pinot Noir is a grape varietal that is known for its proclivity to mutate and has generated more clones, or genetically unique subtypes, than any other grape varietal. The Pommard clone received its name from the place it was originally sourced and identified, Chateau de Pommard in Burgundy, France. In our 2012 Pinot Noir from Coast Grade Vineyard the blend is Pommard driven to be a lush and earthy wine with dark fruit.
The next block we enter is the 828 clone as we head through the vineyard towards Smith Grade Road. These clusters are big and lavish. Ryan takes a moment to point out some key factors about how the vines were planted and are maintained.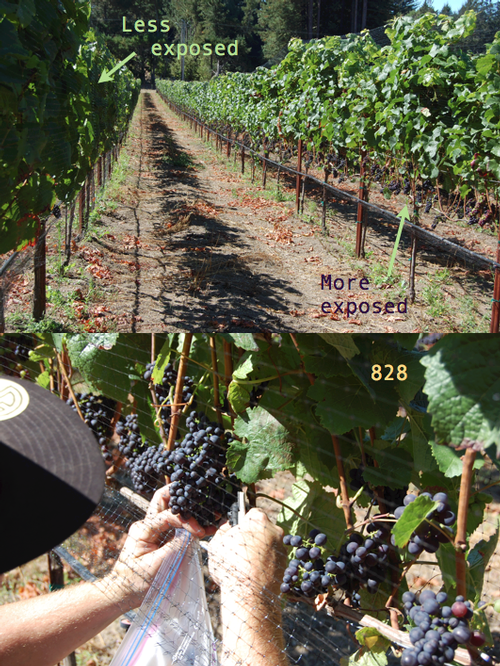 "The vineyard is planted in North to South rows. This allows for even sun. On the eastern side of the vine the leaves are thinner and the fruit is more exposed to the early foggy sunlight and on the west side of the vines there is more leaf coverage to protect the grapes from the midday sun."
The 828 clone is a Dijon clone, meaning it was identified by the University of Dijon in France. We finish collecting samples in the lower blocks of our 115 clones and the 667 clones, which are two of the most popular Pinot Noir clones according to Jim Beauregard. Both 115 and 667 are also Dijon clones which tend to have an earthiness, spices, red fruit and soft tannins.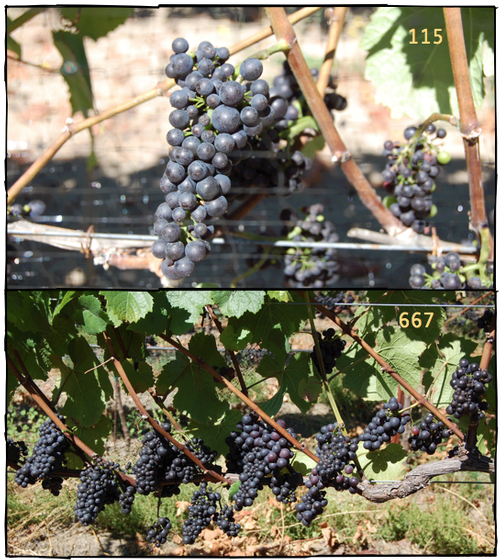 As we begin our return from our sunny late morning walk we are greeted by Ryan's wife, Rachel and their girls. The girls have been collecting quartz gemstones on the side of the vineyard and they are happy to show off their "crystals."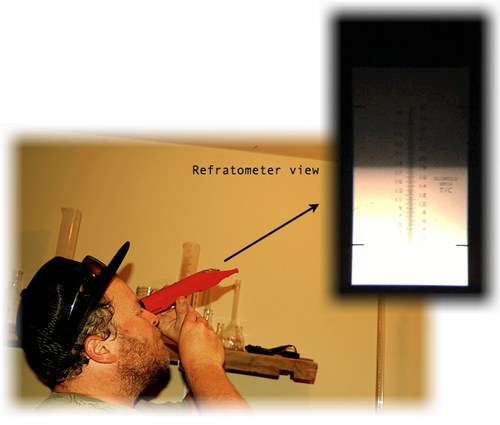 Ryan continues to explain that he does not simply take a refratometer to measure the sugar/brix levels into the vineyard to sample from individual grapes.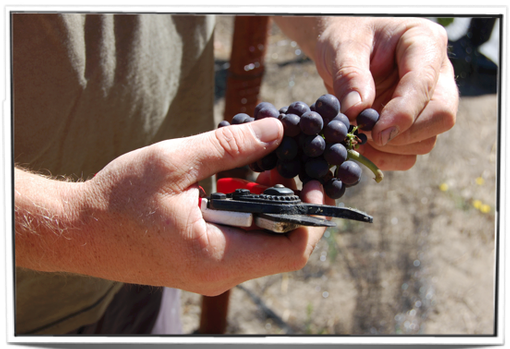 He points out that even on a single cluster there are size variations and other factors for each grape that could result in inaccuracies. Therefore, we all set down in the shade with the sample bags and pop grapes from the four separate blocks making a juice to sample sugar and pH readings. ​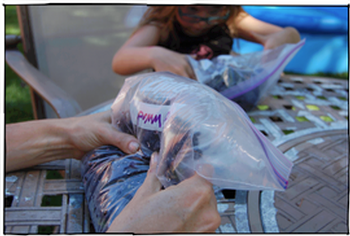 In Ryan's lab we test each of the clones. The end result is: Pommard 18.2 brix, 828 19.8 brix, 115 18.0 brix, and 667 17.2 brix with the pH's ranging from 3.15 to 3.20. We usually harvest at 23 to 25 brix - we are almost there.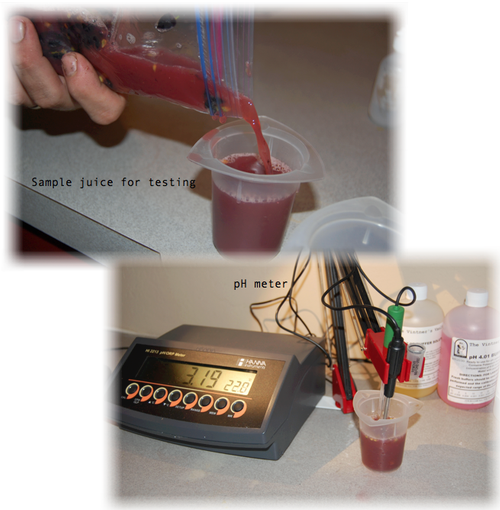 Be sure to join us October 5th & 6th for our first release of the Pinot Noir clones from Coast Grade Vineyard!


There's not much better than when food and wine are paired together. At Beauregard Vineyards, one of our favorite aspects about pairings is that they allow us to manipulate our palate. There's so many different ways to pair food and wine—sweet and savory, acidic and salty—the different ways that we can work with weight, richness, fruitiness, etc. is astounding. Our staff don't miss a beat in taking advantage of the many ways to pair food and wine. Here they have shared their fondest memories and a recipe or two!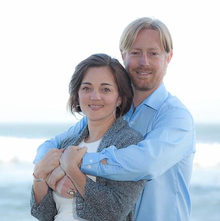 My most memorable experience at Beauregard Vineyards was the day I met my future husband. I was a recent club member, and I came up to the tasting room with a group of friends for the 2009 fall Pickup Party. I was excited to taste the new wines paired with food from Blackboard Catering, the winners of the recent Santa Cruz Clam Chowder Cook-off, and was pleasantly surprised to meet the owners, Clint and Andy. Clint and I connect at once and spent a large part of the afternoon sipping wine together, eating chowder, and tasting Tabitha's wonderful goodies. Since that time we have had many wonderful memories here and strengthened many relationships including our own. This is a magical place where the quality of the wine is equaled only by the quality of the people that it attracts. As far a recipe, I don't think Clint is ready to pass on his award winning chowder.
—Jada
Beauergard Vineyards Accounting Specialist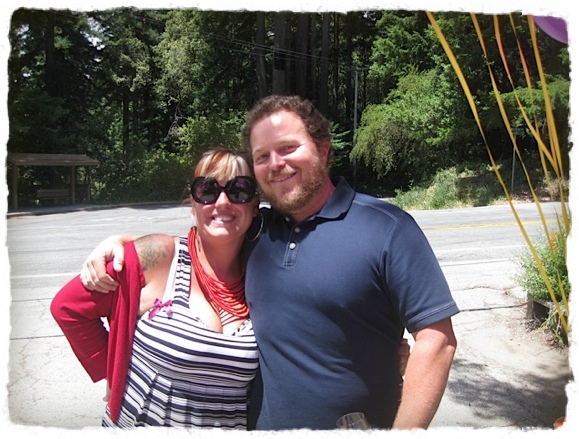 Its funny. Im not exactly sure how Ryan and I met...but long long ago when the Beauregard tasting room was on the wharf, two people started a friendship that has lasted the test of both our personalities...it began with a Beauregard Chardonnay that contained hints of chartreuse glistening in the glass with a sparkle in its eye like a naughty boy with grass stains on his knees...a super nova of tropical fruit jumped in my lap after the first pass of my nose...then the banana bread promise grew as she opened herself up. At the time, Ryan and I were noshing on some St Pats from Cowgirl Creamery, talking nonsense and dreams. Sitting on the couch looking over our bay I fell in love with Beauregard wines...and Ryan. As a winemaker, Ryan knows when to back off and knows when to intervene—a talent lost by many when it comes to the mighty grape.
Nine years later, I love Ryan's wines more than ever, and have begun a jam company with him and his tribe as my test tasters. We have evolved together and realized our dreams on this little stretch of coast we call home.
Thats my story and I'm stickin' to it.....
—Tabitha
Beauergard Vineyards Food Specialist & Owner of Friend In Cheeses Jam Company
Let's be frank: Ryan makes great wine. Although I enjoy all of his wines, I do have some preferences. The 2011 Chardonnay from Bald Mountain Vineyard is my current favorite. When I first sipped this wine, I thought it was French. It blew my mind. It is the most refreshing, vibrant, balanced and clean California Chardonnay I've ever tried. I'm smitten. I drink it by itself, but I cannot wait to pair it up with some delicious food. I'm thinking dungeness crab and/or oysters?!
—Stefano
Beauregard Vineyards Tasting Room Associate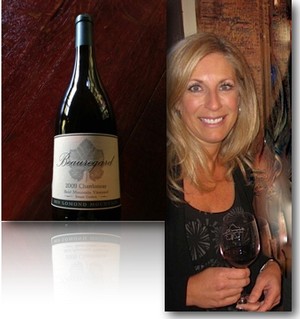 I was always a fan of Chardonnays until the trend of big buttery, oaky Chardonnays dominated the market. Then about four years ago a friend of mine introduced me to a Beauregard Vineyards Bald Mountain Chardonnay, and my love of Chardonnays was rekindled. The beautiful, minimally-manipulated Chardonnays that Ryan makes allow for the true nuances of the fruit to come through in a way that make the wine very food friendly. Scallops are one of my favorite foods to pair with the 2009 Bald Mountain Vineyard Chardonnay.
—Suzanne
Beauregard Vineyards Direct to Consumer Manager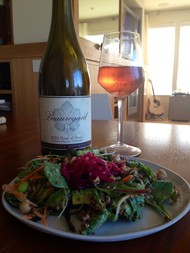 I love Rosé, and I'm captivated by the 2010 Rosé of Syrah from the Nelson Family Vineyard. It is lush, refined and perfect for summer. Nearly everyday I eat salad, and this Rosé goes with every incarnation of salad I consume from hippy salads topped with crunchy seaweed and kale, to heartier salads filled with grilled chicken, avocado and romaine. Quite simply, it is a fantastic wine for summertime cuisine.
—Pamala
Beauregard Vineyards Tasting Room Associate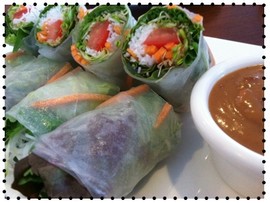 Beauregard Vineyards is the place where I took my love of wine to a passion for Chardonnay and Pinot Noir. A favorite of mine and my friends was the 2006 Santa Cruz Mountain Chardonnay. We called it our "Sushi wine" and it went great with homemade sushi rolls and fresh Thai Spring rolls with peanut sauce! These nights cooking with fresh ingredients and outstanding Chardonnay were priceless. So grab some seaweed, a bamboo rolling mat, sticky rice and a bottle of Beauregard Chardonnay today!
—Heather
Beauregard Vineyards Online Media/eCommerce & Outreach Director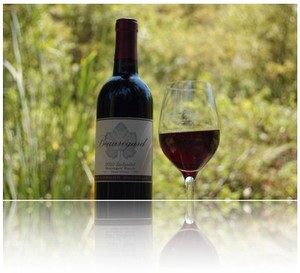 Perhaps my favorite simple, yet exceptional food and wine pairing here at Beauregard Vineyards was when my coworker Lonny brought a surprise for after work not long after the release the 2010 Beauregard Ranch Zinfandel. After we closed down the bar, Lonny poured us each a small glass of the Zin, and brought out a plate he'd hidden in the fridge. On the plate was a wedge of Humboldt Fog, one of my favorite cheeses. The pairing of the rich and herbal goat cheese with the cool-climate, earthy Zinfandel was breathtaking. In one bite it was as if I were sitting on the edge of a meadow, surrounded by dry brush and brambles, picnicking in another place and time. The best pairings have this ability I think, to capture our senses and to pull us out of the present. By choosing what to eat with what to drink we take gastronomy into our own hands, and by doing so we become the curators of an experience that extends beyond the boundaries we are normally confined to each day into the realm of Dionysian pleasure.
—Jake
Beauregard Vineyards Tasting Room Associate
2010 Rosé of Syrah with Smoked Salmon and a dill creme fraiche
1/2 cup creme fraiche
1/2 bunch fresh dill from Farmers Market
1/2 lemon juiced
4 cornichons finely chopped
Mix all ingredients in bowl
1/2 pound of smoked salmon
Slice smoked salmon and serve with extra cornichons and 2010 Rosé of Syrah
—Stefano
Beauregard Vineyards Tasting Room Associate


Jim Beauregard and I walk up the dusty hillside of the Beauregard Ranch, first passing the lush lower rows of Pinot Noir. Jim tells me that this block is the Pommard Clone, which he planted in 2008 to replace Chardonnay vines. "Why", I ask. "Because I enjoy the Pommard Clone. It's big, lush and full of black fruit and there is a high demand in the Santa Cruz mountains for Pinot Noir", Jim replies with his kind smile. The Pinot Noir grapes are the only clusters currently in véraison, which is the stage when the fruit begins to ripen and the grapes change color.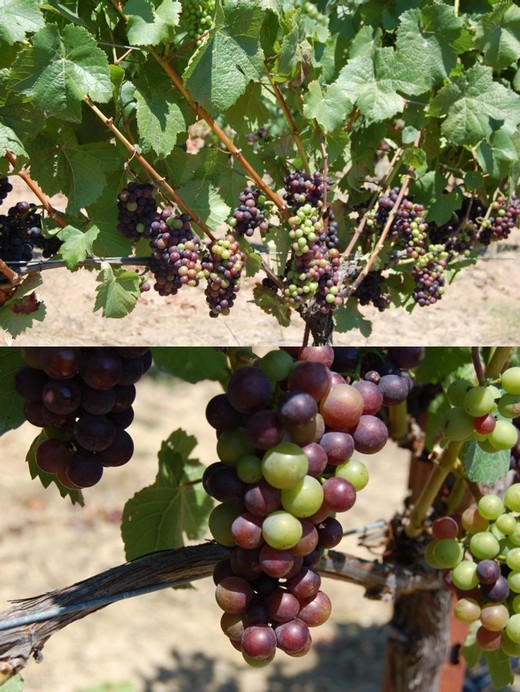 Jim remembers summers as a young boy playing among the vines at the Beauregard Ranch. He recalls when the family horse, Molly, was relieved of her plowing duties by the Ranch's first vineyard tractor; Jim thought it was so much fun to drive the tractor through the vineyard that this became his summer job. This memory brings forth the question of if he always knew he would be the viticulturist for the Beauregard Ranch, tending to the vines? He replies that this is not his job, but rather a hobby that he keeps because he enjoys it. He also adds, "I like all the stuff that I do." His primary occupations being the family grocery store, Shopper's Corner, and the Chardonnay II.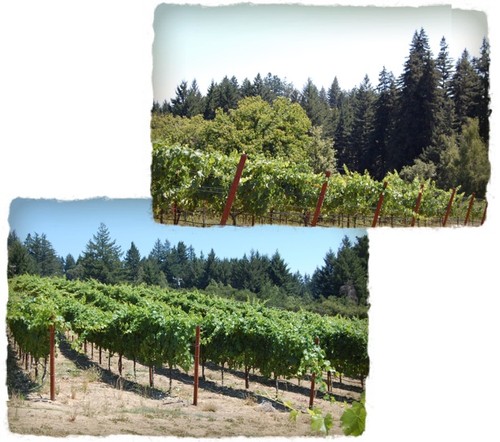 Moving up the vineyard hillside, Jim and I pass Zinfandel and Cabernet Sauvignon. Jim comments on the original Beauregard Ranch Zinfandel vines being the first Zinfandel grapes planted in the Santa Cruz Mountains. "These vines are the Primitivo Clone", which he thinks has more developed characteristics, "and the Cabernet vines are Dijon Clones."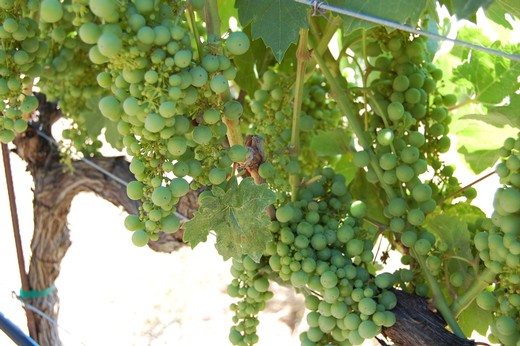 Jim has successfully replanted the Beauregard Ranch three times and has installed three-hundred acres of vineyards in the Santa Cruz Mountains. At home Jim enjoys Beauregard wines regularly but his choice selection depends on what he is eating: "Lamb with Pinot Noir, and Cabernet or Zinfandel with steak."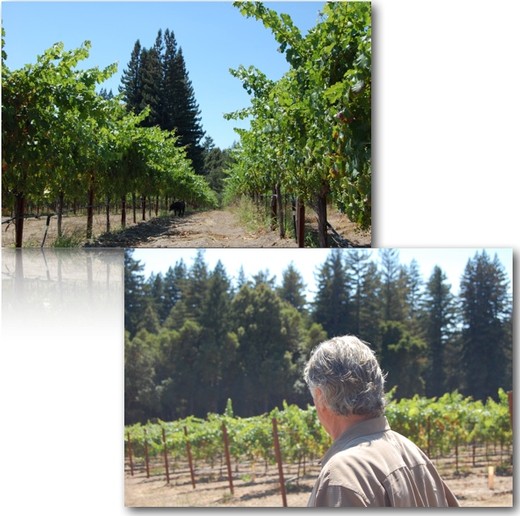 Jim believes 2013 is an exciting year for the Beauregard Ranch and the Santa Cruz Mountains. It has been a great growing season and he expects the harvest to begin seven to ten days early this year. The past fours years have been abnormal growing seasons. Cold and foggy summers resulted in low yields from those harvests. Jim notes that 2010 was the coldest year in the Santa Cruz Mountains since 1956.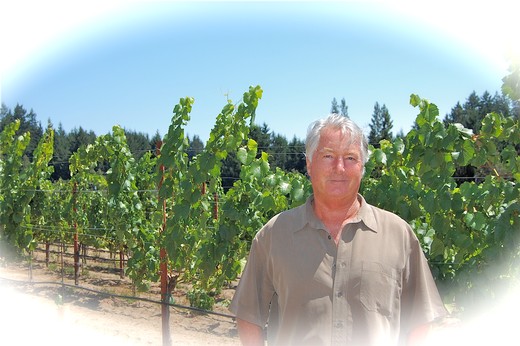 Because of the cold weather and the low yields, Jim and Ryan decided to use the Chardonnay and Pinot Noir from Bald Mountain Vineyard to make Beauregard Vineyards' first sparkling wine, set to release in 2014. Jim had experience producing sparkling wines in the 80's for private labels. With this, he believes Beauregard Vineyards' first sparkling wine is, "delicious, have you tried it yet?"

Beauregard Vineyards has been working with a newly structured Pick Up Party for our members to enhance the individual experience. We have changed from a one day fiesta to a fun-filled weekend of appointments to ensure everyone gets equal parts Beauregard Love.
We know RSVP'ing sounds scary but in reality it allows us to prepare and make sure your group is well taken care of. Our day started early, taste testing Tabitha's creations with the new club wine releases. Once guests began to arrive was when the real fun for us begun. Seeing our club members at our Pick Up Parties is a highlight for us. It is a great opportunity to check in, get to know one another or catch up and enjoy!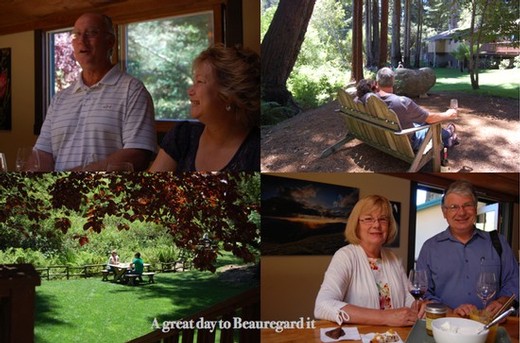 Suzanne and Rachel greeted guests with a splash of Sauvignon Blanc to cleanse and cool the palate. Then members joined Tabitha on the patio for some Pinot Gris, Melon Mint soup and Pinot Gris Orange Wine. This chilled summer melon delight brought out the amazingly different characteristics of our two styles of Pinto Gris.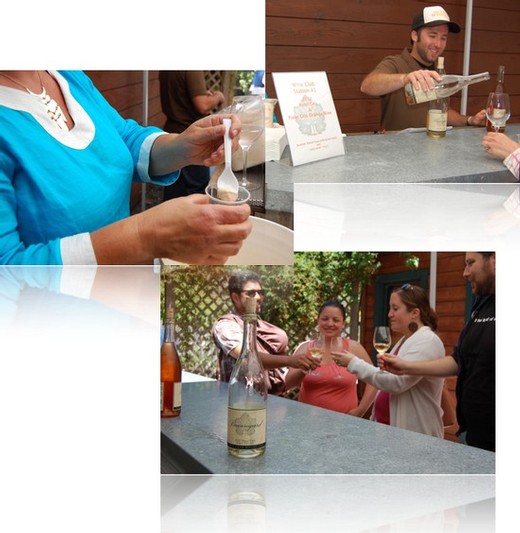 Our second station was out in the redwood grove with relaxing tunes from Al Frisby on Saturday, and on Sunday Vern, a solo musician who plays slack key guitar. The 2011 Barbera, High Valley was showcased here for its premier pouring. This wine is a summer delight. Ryan sought out Barbera for a light bodied summertime red and he exceeded his expectations with this wine! We have served it chilled and we can say, it is juicy and delicious!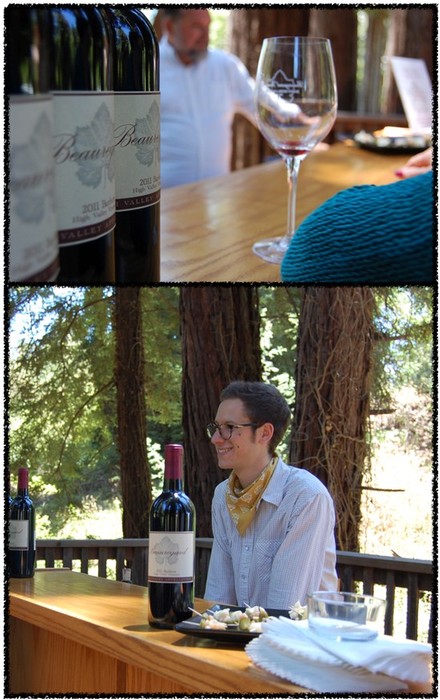 The Barbera grapes for this wine come from a vineyard that sits at an elevation of 1,960 to 2,260 feet, much like our estate vineyards in Bonny Doon. The Clearlake influences combine with volcanic soils to produce a wine with depth and structured acidity.
Back in the barrel bar Heather was pouring the 2010 Syrah, Nelson Family Vineyard, which we double paired with a Tabitha creation followed by Sweet Cheeks Double Chocolate Sea Salt cookies. Chocolate and Syrah—yum! Tabitha whipped up some sheep's milk Lebnah (at home cream cheese can be used as a substitute), the cheese was spread onto a cinnamon raisin bread crostini with Electric Beetroot Confit from Friend in Cheeses Jam Company. The burst of flavors with the crostini was surprisingly harmonious, but not surprising was how well it went with our dark berry spice filled 2010 Syrah.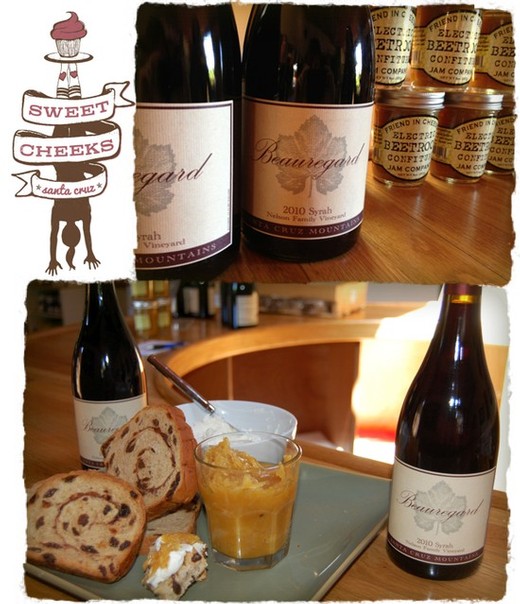 Thank you to those who came out for the July 2013 Pick Up Party. We hope to see you at our next Club release celebration and look for the Melon soup recipe in the upcoming Newsletter!