August 27, 2021 | Ryan Beauregard
The 2020 Lost Weekend...Vintage Notes
This is a delicious wine with an essence of "Post Traumatic Stress Disorder" per se. The memories are still hard to bear and it is impossible to convey the emotions that this wine holds for me. It is a reminder of utter fear and uncertainty. The CZU Lightning Complex Fire was one year ago now, though it still seems like yesterday.
Days before the CZU lightning complex fire, I had brought in the grapes to make this wine. After trucking from Contra Costa County, I took the grapes from the 135-year old vines and de-stemmed them into my fermentation vessels. I covered the vats with plastic and went about my business of cleaning up the winery and preparing for other projects coming down the line towards us. Little did I know that the project would be defending my home and winery (along with some of my best friends - now brothers) from the largest natural disaster that the County of Santa Cruz has ever faced.
Needless to say, I abandoned this fermentation. The days were long, hot, and full of smoke. Adrenaline and fear is what we had for dinner, perfectly paired with the occasional shots of whatever liquor was on hand to soothe the nerves. As large embers fell from the sky, a dark blanket of smoke covered us and the winery went dark. I was sure we would lose everything. I came to terms with this and felt the largest defeat that I could ever describe.
Enter the Bonny Doon Renegades.
A large group of neighbors who refused to leave (once we knew that Cal Fire had pulled away from the fire) formed to become our own fire fighting brigade. Many legendary stories will eventually fall into folklore but in a nutshell many men and women bonded together to save our homes in whatever form of fear-driven survival means were necessary. Rakes, chainsaws, leaf blowers, and many hand tools were used in this great defense. In many cases, winery harvesting bins and fermenters filled with water, were seen in the back of pickup trucks attached to whatever pump that could be used to extinguish a fire.
These renegade groups received some bad press and a lot of animosity/disapproval from many communities, which was justified. What many of the people casting judgment against us didn't realize is that we were not just defending our homes. We defended family legacies, community, and our unique and brawny culture. Was this a good decision? Absolutely not, and if you are reading this, then I would urge anyone to 100% evacuate from a forest fire. Things change really fast. Things could have gotten really bad, really bad.
The grapes for this wine sat unattended through the whole fire in the fermentation vats covered in plastic. Eventually the fire was somewhat over (easy to type in one sentence, but indescribable). I peeled back the plastic to find that the grapes had fermented on their own, with zero input from man. The plastic covering had trapped the naturally occurring CO2 gas and had kept the wine from going bad. What I came to find was that the wine was actually in good condition. By the sheer muscularity of Zinfandel and Carignan from 135-year-old vines, the wine was also a survivor! After locating a generator, I was able to press the wine into tanks where it sat alone for several more weeks before going to barrels. The property was in shambles, there was aftermath of fire everywhere. The grey and yellow skies had somewhat become normal. Ash layered everything. Helicopters carrying water from a nearby pond flew over me on missions to extinguish the remaining flare ups while I pressed this wine. Repopulation of Bonny Doon was still weeks away and I was one of the few people still on the mountain when this wine was pressed off of the skins. Much of our community was destroyed and my survivor guilt was beginning to emerge.
This wine, though not from our beloved estate, is a miracle in its own existence. As are our homes, the school, the church, a few remaining neighborhoods, and The Lost Weekend itself, which is one of the iconic symbols of our small mountain community. The Lost Weekend Tasting Room has stood through many natural disasters, including two major earthquakes: 1906 and 1989. It has stood through The Great Fire of 1905, The Pine Mountain Fire of 1945, the Martin Fire of 2008, The Lockheed Fire of 2009, and most recently, the 2020 CZU Lightning Complex Fire.
This wine is more of a tribute to this iconic building now than it has ever been. I hope you can acquire this legendary wine and have a toast to the mountain community of Bonny Doon alongside your family and friends, and share the tale this wine has to tell.
This wine that made itself and survived this disaster along with us, will always remind me of the resilience of the human spirit. It also reminds me of the reason we make wine. It captures more than any photograph ever could, the unique, sometimes momentous, vintage from which it came.
#bonnydoonstrong
Peace and love to all of you from The Beauregard Family.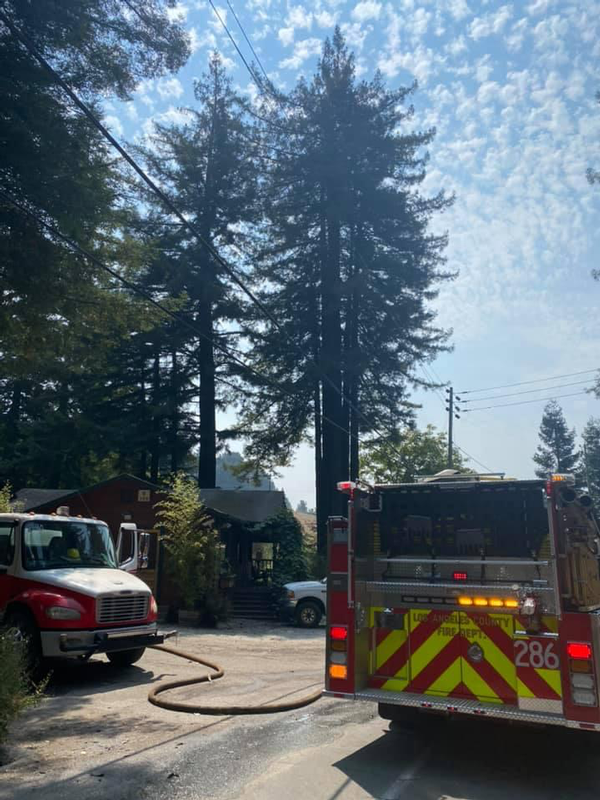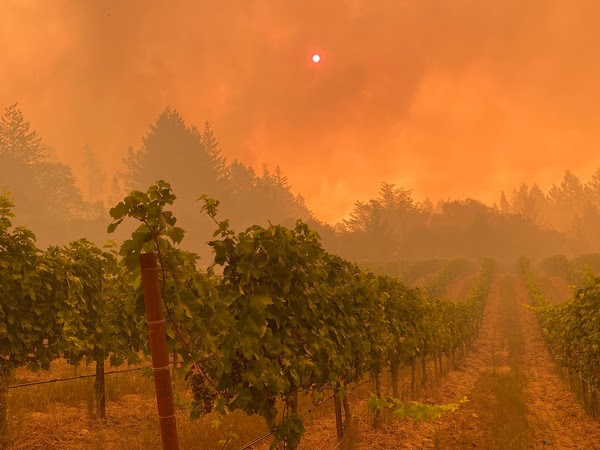 Comments
Commenting has been turned off.