Beauregard's Blog

The September wine club party is always one of our favorites here at Beauregard Vineyards. It's a special time of year; grapes are being brought in from the vineyards, we have fermentations raging away in the cellar, and it's some of the most pleasant weather on the mountain as summer ends and fall begins. This year we were excited to offer our guests a glimpse of the behind-the-scenes work that goes into our wines.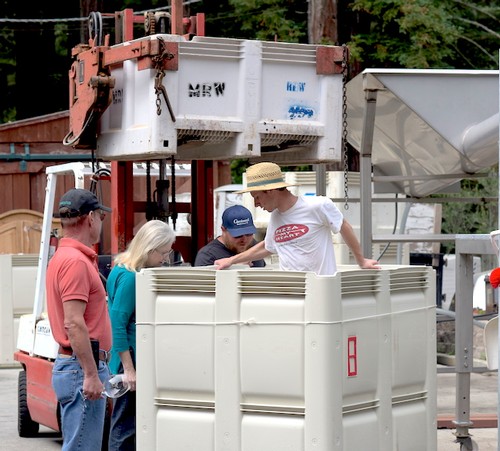 The first pouring station was located up in the cellar, where guests were greeted by the scent of Syrah from Zayante Vineyard fermenting away. While our wine club members sipped on the 2013 Chardonnay at station one, Ryan pressed some Pinot Noir to make his "Happy Wife Rosé," one of Rachel's favorite wines. Club members also got a kick out of seeing Jake foot stomp some whole cluster Pinot Noir. Though the process is a bit more labor-intensive than using the destemming machine, sometimes you just can't beat going old school.
After finishing their Chardonnay, club members wandered down to the redwood grove, where they were served our delicious 2013 Rosé of Syrah along with a plate of amazing food provided by Tabitha Stroup. The food genius behind Friend in Cheeses Jam Co. provided guests with Peruvian pork shoulder tacos, slow braised in oranges, bay Peruvian yellow peppers, onion, and Peruvian white beans (like a fava but smaller), all on a soft corn tortilla, and served on the side with an incredible salad made with organic home-grown heirloom tomatoes from the Beauregarden.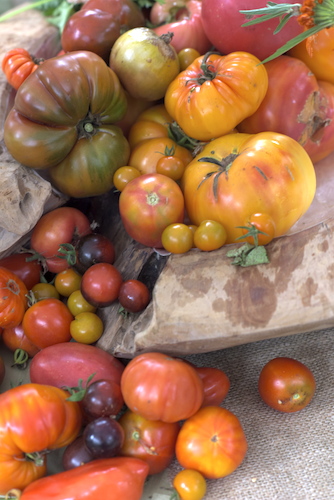 Guests enjoyed their picnic while listening to the groovy sounds of the Matt Conable Band. Inside, they finished at station three, where we were pouring our 2011 Meritage. A blend of 60% Merlot from Zayante Vineyard, and 40% Cabernet Sauvignon from the Beauregard Ranch, this is a perfect wine for any occasion. Drink it soon for the holidays, or hold onto it for years to come.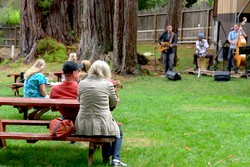 Thanks so much to everyone who turned up for the event! We love our wine club members, and treasure the opportunities that our pick up parties offer us to engage with some of our favorite customers. We hope you enjoy the new releases, and we look forward to seeing you in November, if not sooner.

When we drink a glass of wine it's often easy to forget the enormity of the process that went into making the finished product. Last April, after closing the tasting room, Ryan Beauregard invited me to join him in the winery to taste the new stainless steel Chardonnay he was preparing to bottle. From the tank the liquid was bright, almost clear, and when I remarked about the clarity of the wine, he told me that most of the straw-yellow color found in many Chardonnays is from contact with oak barrels.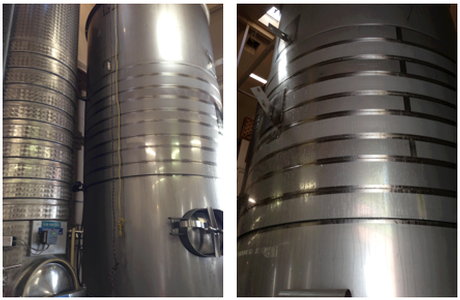 The wine was as cold as the stainless steel tank it was stored in, and when I tasted the dry, refreshing wine, it reminded me of lemon zest, lime blossoms, green apple and clover honey. Unoaked, the Chardonnay was light and clean--there was no toasted or vanilla flavors--and it had a soft acidity that expressed a balanced minerality reminiscent of limestone and graphite, like licking a finger after using a piece of chalk, or wetting the end of a pencil with your tongue.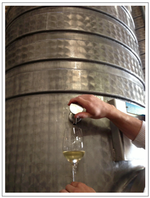 This wine was not the kind of Chardonnay I'm most familiar with, but I enjoyed it immensely. Chardonnay is the most widely planted white grape varietal, and the styles of Chardonnay available vary almost as much as the distinct geographical locals where it is grown. Chardonnay is the principal white grape grown in Burgundy, and Chardonnays from this region in France are called "white Burgundies," which are known for their high acidity and rich minerality.
California now grows even more Chardonnay then France. Though some producers in California aim for more dry, "Burgundian" styles of Chardonnay, many California Chardonnays are known for their rich, ripe, fruit-forward style, often characterized as more tropical tasting than European Chardonnays. About ten years ago, the California Chardonnay market was dominated by wines that had gone through malolactic fermentation and were aged in new oak barrels, giving the wines a buttery, sweet vanilla quality, which many people today still associate with California Chardonnay, though now many winemakers are experimenting with producing stainless steel Chardonnays, using neutral barrels, and even large volume cement tanks.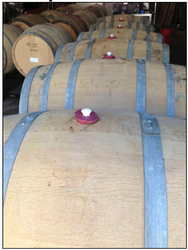 Ryan's new 2012 Métallique Chardonnay contained a wonderful combination of New World fresh fruit flavors and Old World acidity and minerality. Ryan makes several styles of Chardonnay, using new oak, neutral barrels, and stainless steel. When I asked why he makes so many different kinds, he told me that he doesn't only like to drink one style of Chardonnay, that it's a grape with so much to offer, and that he wants to take advantage of that, and to be able to offer a variety of Chardonnays.
Standing in the cellar with the bottling line behind us, the towering silver tanks full of crisp Chardonnay ready to be bottled, labeled and shared with friends in the tasting room, I couldn't help but think that one of the reasons I was enjoying this wine so much was because I had followed its development. I'd seen the grapes brought into the cellar to ferment months earlier, I'd talked to Ryan about his decision to use the stainless steel tank, rather than oak barrels, to ferment the juice, and had tasted the wine straight from the tank. There is something to be said about knowing where your wine comes from, and with this in mind, I highly recommend that anyone interested in learning more about the Beauregard wines should check out our new Cellar Tours that are now offered at noon by appointment only Saturday through Tuesday. The newly released 2012 Métallique is drinking even better now that it has spent a little time in the bottle, so come into the tasting room soon to try out our new stainless steel Chardonnay and let me know what you think!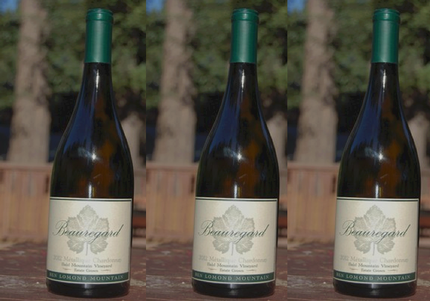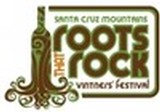 For the 24th annual Vintner's Festival the Santa Cruz Mountains Winegrowers Association held the first ever Roots that Rock Santa Cruz Street Faire, which was a huge success June 2nd along Pacific Avenue. There was some amazing artwork, jewelry, craftwork, food and of course some fantastic wines made right here in the Santa Cruz Mountains. While people enjoyed all four of the wines we were pouring, our 2012 Sauvignon Blanc seemed to be a crowd favorite. The grapes for this wine came from the Margarita Vineyard, the southernmost vineyard in Paso Robles. Though the climate is a bit hotter than here in Santa Cruz, the vineyard receives similar marine influences due to its 14-mile proximity to the coast and an elevation of around 1,100 feet. One of my favorite things about this vineyard is that it is situated on an ancient oyster bed, and there are thousands of fossilized oyster shells scattered about the vineyard.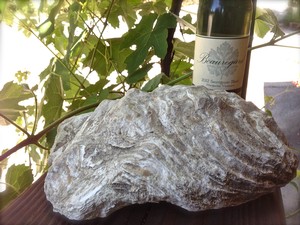 This lends a unique terroir to the wine made from the grapes grown there. Our Sauvignon Blanc was the first of our 2012 summer aromatic wines to be released. Joining this wonderful crisp, clean wine are a consortium of white, orange and rosé wines that are perfect for a hot summer day, sitting on the porch, lounging by the pool, or hanging out by the grill. Here's the list of our summer aromatic lineup:
2012 Sauvignon Blanc
2012 Pinot Gris
2012 Pinot Gris 'Orange Wine'
2012 Riesling
2012 Saignée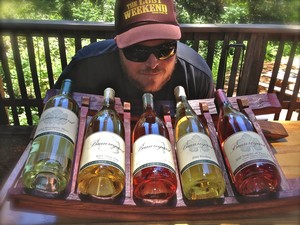 The human tongue is limited to the primary taste receptors—picking up on acidity, saltiness, sweetness, and umami (or savoriness)—so it is through our olfactory receptors (our sense of smell) that the full expression of a wine is tasted. While red wines tend to strive for depth, white wines tend to aim for complexity of aromas. When grapes ferment, yeast consumes the natural sugars found in the grapes; the byproduct of this reaction is carbon dioxide, alcohol, and (potentially) over 200 aromatic esters. An ester is essentially a specific aromatic aroma. When we say that a wine has the scent of a rose, it is because both possess an identical chemical compound, or ester. When we taste a wine we smell the aromas created during the fermentation combined with the taste and tactile elements specific to that grape variety. I love to pair wines with the seasons: heavy red wine or complex Chardonnay during cold winter days, and light, aromatic whites during the summer months. Besides pairing wine with weather, it's always fun to pair wine with an activity and a meal. Here are some suggestions for food pairings with our summer aromatic flight: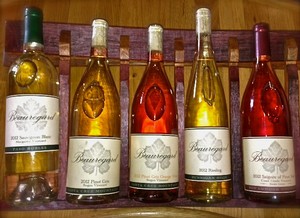 2012 Sauvignon Blanc paired with Fresh Fish and Grilled Summer Vegetables
2012 Pinot Gris paired with Sushi
2012 Pinot Gris 'Orange Wine' paired with Korean Barbecue
2012 Riesling paired with Caribbean Spiced Ribs **recipe below
2012 Saignée paired with Asian Chicken Salad
**Recipe for Caribbean Spiced Ribs
2 Tbs brown sugar
2 tsp fresh ginger root, grated
1/4 tsp cayenne pepper
1/4 tsp ground clove
1 tsp paprika
1 tsp dried oregano
2 tsp black pepper
1 tsp salt
2 limes, zested and juiced
1 cup orange juice
1 rack pork spareribs, cut in half
1. Preheat oven to 350 degrees F (175 degrees C).
2. Mix together the brown sugar, ginger, cayenne, clove, cinnamon, paprika, oregano, pepper, salt, and lime zest; set aside. Squeeze the limes, and add the juice to the orange juice. Rub the ribs well with the spice mixture. Place into a glass baking dish, and pour in the juice.
3. Cover the dish, and bake in preheated oven for 90 minutes. Uncover, then continue cooking until nicely colored, 20 to 30 minutes more. Brush the ribs with the pan juices a few times while they are cooking.
Enjoy!

Pinot Gris (also known as Pinot Grigio in Italy) is a white grape that is thought to be a genetic mutation of Pinot noir. Most winemakers today treat red and white grape varietals very differently during the winemaking process. Typically, red grapes are left on the skins during fermentation, while there is no skin contact when making white wines. However, sometimes a winemaker will choose to let macerated white grapes ferment on the skins. The result of this process is known as an orange wine. While no oranges are used to make orange wines, they often possess citrus characteristics, but more importantly, the skin contact allows for absorption of tannins. The result is a wine with the flavor profile of a white wine, but the texture of a red wine.
The origin of orange wines dates back at least 5,000 years, when winemakers often made little distinction between white and red grapes, with evidence of orange wine found in amphora from the area that is now Amenia and the republic of Georgia. Orange wine later became popular in the northeastern par of Italy and Slovenia, where winemakers frequently left white grapes on the skins from around 1300 until as late as 1960, when modern winemaking techniques and practices displaced many traditional methods of winemaking. However, orange wines have recently made a comeback thanks to vintners who have combined old traditions with modern winemaking techniques, producing high-quality orange wines.
Here at Beauregard vineyard, we are pleased to announce the release of our second vintage of orange wine made from Pinot gris from the Regan Vineyard. We have also made a white wine Pinot gris as well, with grapes from the same vineyard. Located in the Corallitos area of the Santa Cruz Mountains, Regan Vineyards is situated atop a hilly knoll with loamy soil, and receives plenty cool breezes off the Monterey Bay. The soil and marine influences lend a crisp, refreshing acidity to these new wines, which are perfect for the summer. Our orange wine had 21 days of skin contact, and is reminiscent of (insert tasting notes here), with a slight astringency on the finish because of the tannins. This wine is great with barbecued chicken or sausages!

Here's a few reasons why we like orange wine, and why you should too:
Because of the tannins that result from the skin contact, orange wines have more body and structure than a normal white wine
The flavors are complex, salient and unusual.
Orange wines combine old traditions with new innovations
Though made to drink upon release, orange wines often age more gracefully than your average white wine.
Opening a bottle of orange wine is a good way to impress your wine-loving friends.
A chilled bottle of orange wine is refreshing and tastes great!

Stop by our tasting room this weekend and try our Pinot Gris and Pinot Gris 'Orange Wine' for yourself!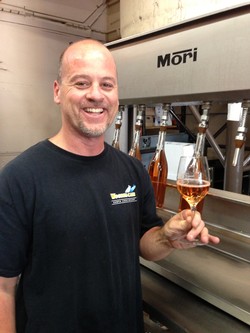 A glass of Orange wine makes Stefano VERY happy!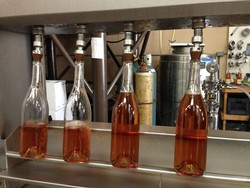 Pinot Gris "Orange Wine" on the bottling line.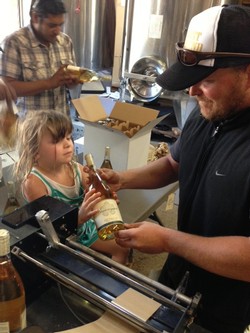 Nora showing her dad Ryan Beauregard proper labeling techniques for the Pinot Gris (white wine) here in Bonny Doon!