July 23, 2013 | Heather Hazen
Pick Me Up & Party Down - July 2013 Club Pick Party
Beauregard Vineyards has been working with a newly structured Pick Up Party for our members to enhance the individual experience. We have changed from a one day fiesta to a fun-filled weekend of appointments to ensure everyone gets equal parts Beauregard Love.
We know RSVP'ing sounds scary but in reality it allows us to prepare and make sure your group is well taken care of. Our day started early, taste testing Tabitha's creations with the new club wine releases. Once guests began to arrive was when the real fun for us begun. Seeing our club members at our Pick Up Parties is a highlight for us. It is a great opportunity to check in, get to know one another or catch up and enjoy!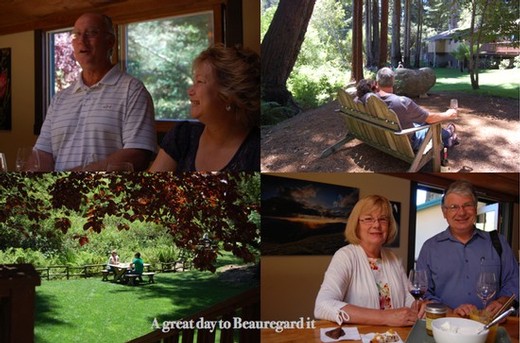 Suzanne and Rachel greeted guests with a splash of Sauvignon Blanc to cleanse and cool the palate. Then members joined Tabitha on the patio for some Pinot Gris, Melon Mint soup and Pinot Gris Orange Wine. This chilled summer melon delight brought out the amazingly different characteristics of our two styles of Pinto Gris.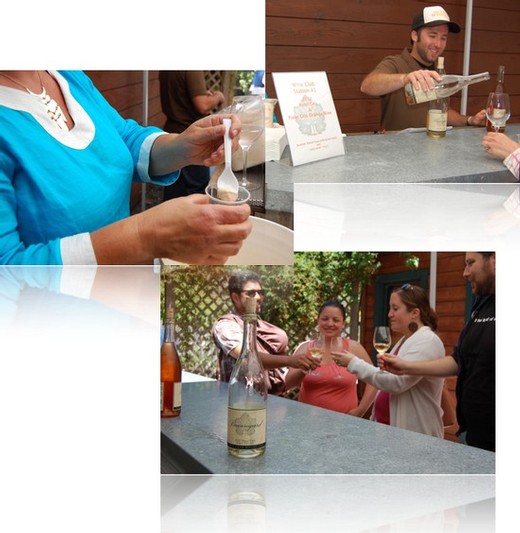 Our second station was out in the redwood grove with relaxing tunes from Al Frisby on Saturday, and on Sunday Vern, a solo musician who plays slack key guitar. The 2011 Barbera, High Valley was showcased here for its premier pouring. This wine is a summer delight. Ryan sought out Barbera for a light bodied summertime red and he exceeded his expectations with this wine! We have served it chilled and we can say, it is juicy and delicious!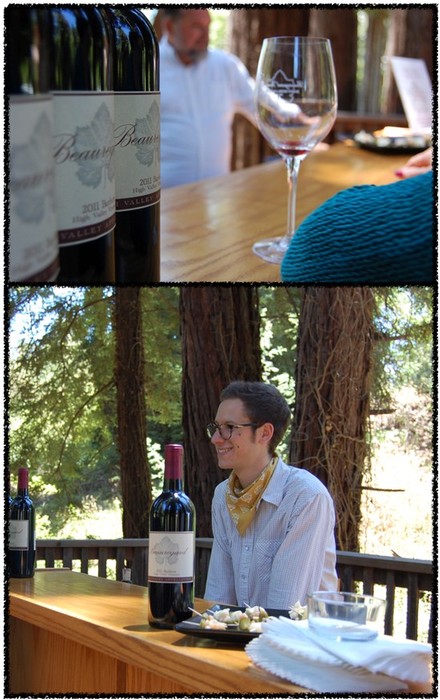 The Barbera grapes for this wine come from a vineyard that sits at an elevation of 1,960 to 2,260 feet, much like our estate vineyards in Bonny Doon. The Clearlake influences combine with volcanic soils to produce a wine with depth and structured acidity.
Back in the barrel bar Heather was pouring the 2010 Syrah, Nelson Family Vineyard, which we double paired with a Tabitha creation followed by Sweet Cheeks Double Chocolate Sea Salt cookies. Chocolate and Syrah—yum! Tabitha whipped up some sheep's milk Lebnah (at home cream cheese can be used as a substitute), the cheese was spread onto a cinnamon raisin bread crostini with Electric Beetroot Confit from Friend in Cheeses Jam Company. The burst of flavors with the crostini was surprisingly harmonious, but not surprising was how well it went with our dark berry spice filled 2010 Syrah.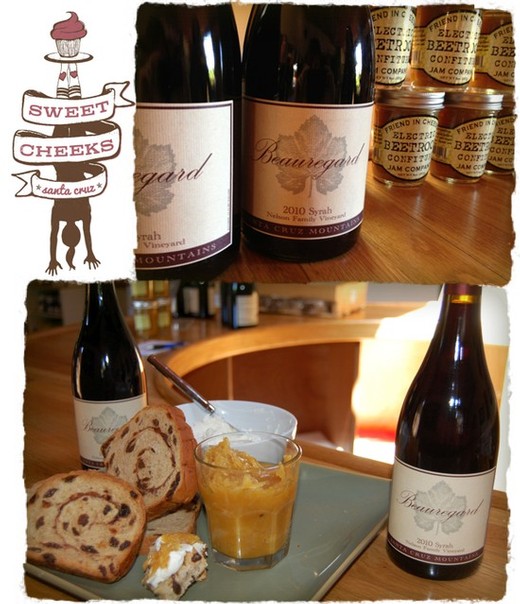 Thank you to those who came out for the July 2013 Pick Up Party. We hope to see you at our next Club release celebration and look for the Melon soup recipe in the upcoming Newsletter!
Comments
Rachel Beauregard

@ Jul 23, 2013 at 1:33 PM

Thanks to our wonderful members and staff for making this a great weekend. Looking forward to the next one!

Commenting has been turned off.