August 12, 2013 | Heather Hazen
The Beauregard Crew and Their Favorite Pairings

There's not much better than when food and wine are paired together. At Beauregard Vineyards, one of our favorite aspects about pairings is that they allow us to manipulate our palate. There's so many different ways to pair food and wine—sweet and savory, acidic and salty—the different ways that we can work with weight, richness, fruitiness, etc. is astounding. Our staff don't miss a beat in taking advantage of the many ways to pair food and wine. Here they have shared their fondest memories and a recipe or two!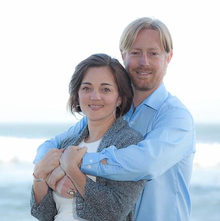 My most memorable experience at Beauregard Vineyards was the day I met my future husband. I was a recent club member, and I came up to the tasting room with a group of friends for the 2009 fall Pickup Party. I was excited to taste the new wines paired with food from Blackboard Catering, the winners of the recent Santa Cruz Clam Chowder Cook-off, and was pleasantly surprised to meet the owners, Clint and Andy. Clint and I connect at once and spent a large part of the afternoon sipping wine together, eating chowder, and tasting Tabitha's wonderful goodies. Since that time we have had many wonderful memories here and strengthened many relationships including our own. This is a magical place where the quality of the wine is equaled only by the quality of the people that it attracts. As far a recipe, I don't think Clint is ready to pass on his award winning chowder.
—Jada
Beauergard Vineyards Accounting Specialist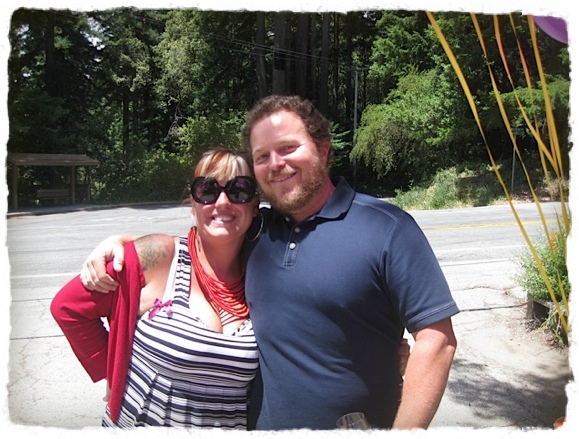 Its funny. Im not exactly sure how Ryan and I met...but long long ago when the Beauregard tasting room was on the wharf, two people started a friendship that has lasted the test of both our personalities...it began with a Beauregard Chardonnay that contained hints of chartreuse glistening in the glass with a sparkle in its eye like a naughty boy with grass stains on his knees...a super nova of tropical fruit jumped in my lap after the first pass of my nose...then the banana bread promise grew as she opened herself up. At the time, Ryan and I were noshing on some St Pats from Cowgirl Creamery, talking nonsense and dreams. Sitting on the couch looking over our bay I fell in love with Beauregard wines...and Ryan. As a winemaker, Ryan knows when to back off and knows when to intervene—a talent lost by many when it comes to the mighty grape.
Nine years later, I love Ryan's wines more than ever, and have begun a jam company with him and his tribe as my test tasters. We have evolved together and realized our dreams on this little stretch of coast we call home.
Thats my story and I'm stickin' to it.....
—Tabitha
Beauergard Vineyards Food Specialist & Owner of Friend In Cheeses Jam Company
Let's be frank: Ryan makes great wine. Although I enjoy all of his wines, I do have some preferences. The 2011 Chardonnay from Bald Mountain Vineyard is my current favorite. When I first sipped this wine, I thought it was French. It blew my mind. It is the most refreshing, vibrant, balanced and clean California Chardonnay I've ever tried. I'm smitten. I drink it by itself, but I cannot wait to pair it up with some delicious food. I'm thinking dungeness crab and/or oysters?!
—Stefano
Beauregard Vineyards Tasting Room Associate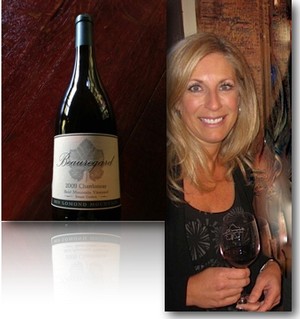 I was always a fan of Chardonnays until the trend of big buttery, oaky Chardonnays dominated the market. Then about four years ago a friend of mine introduced me to a Beauregard Vineyards Bald Mountain Chardonnay, and my love of Chardonnays was rekindled. The beautiful, minimally-manipulated Chardonnays that Ryan makes allow for the true nuances of the fruit to come through in a way that make the wine very food friendly. Scallops are one of my favorite foods to pair with the 2009 Bald Mountain Vineyard Chardonnay.
—Suzanne
Beauregard Vineyards Direct to Consumer Manager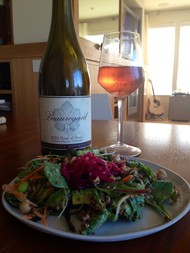 I love Rosé, and I'm captivated by the 2010 Rosé of Syrah from the Nelson Family Vineyard. It is lush, refined and perfect for summer. Nearly everyday I eat salad, and this Rosé goes with every incarnation of salad I consume from hippy salads topped with crunchy seaweed and kale, to heartier salads filled with grilled chicken, avocado and romaine. Quite simply, it is a fantastic wine for summertime cuisine.
—Pamala
Beauregard Vineyards Tasting Room Associate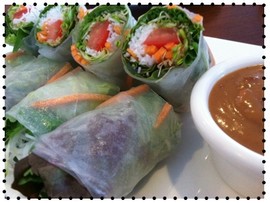 Beauregard Vineyards is the place where I took my love of wine to a passion for Chardonnay and Pinot Noir. A favorite of mine and my friends was the 2006 Santa Cruz Mountain Chardonnay. We called it our "Sushi wine" and it went great with homemade sushi rolls and fresh Thai Spring rolls with peanut sauce! These nights cooking with fresh ingredients and outstanding Chardonnay were priceless. So grab some seaweed, a bamboo rolling mat, sticky rice and a bottle of Beauregard Chardonnay today!
—Heather
Beauregard Vineyards Online Media/eCommerce & Outreach Director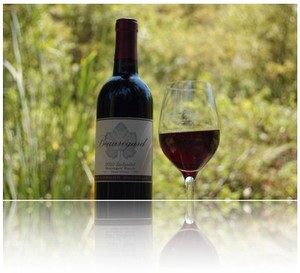 Perhaps my favorite simple, yet exceptional food and wine pairing here at Beauregard Vineyards was when my coworker Lonny brought a surprise for after work not long after the release the 2010 Beauregard Ranch Zinfandel. After we closed down the bar, Lonny poured us each a small glass of the Zin, and brought out a plate he'd hidden in the fridge. On the plate was a wedge of Humboldt Fog, one of my favorite cheeses. The pairing of the rich and herbal goat cheese with the cool-climate, earthy Zinfandel was breathtaking. In one bite it was as if I were sitting on the edge of a meadow, surrounded by dry brush and brambles, picnicking in another place and time. The best pairings have this ability I think, to capture our senses and to pull us out of the present. By choosing what to eat with what to drink we take gastronomy into our own hands, and by doing so we become the curators of an experience that extends beyond the boundaries we are normally confined to each day into the realm of Dionysian pleasure.
—Jake
Beauregard Vineyards Tasting Room Associate
2010 Rosé of Syrah with Smoked Salmon and a dill creme fraiche
1/2 cup creme fraiche
1/2 bunch fresh dill from Farmers Market
1/2 lemon juiced
4 cornichons finely chopped
Mix all ingredients in bowl
1/2 pound of smoked salmon
Slice smoked salmon and serve with extra cornichons and 2010 Rosé of Syrah
—Stefano
Beauregard Vineyards Tasting Room Associate
Comments
Commenting has been turned off.