Beauregard's Blog
Grilled Monterey Bay Squid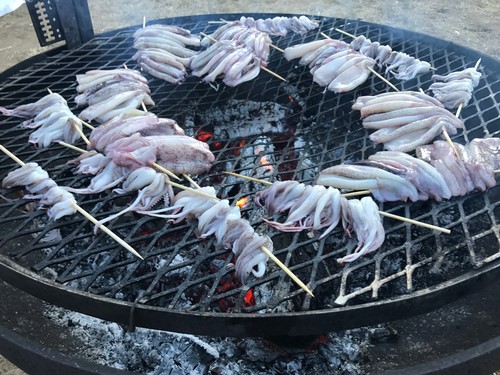 In August we hosted our Outstanding in the Vines dinner in Coast Grade Vineyard. Chef extraordinaire Daniel Gallegos of Empire Grade Purveyors prepared the menu with South America influences and local ingredients at their peak. The wine of the hour was our 2012 Pinot Noir Coast Grade Vineyard which we paired with grilled Monterey Bay squid. Coast Grade sits on the edge of the marine layer and there is always a hint of the ocean in the wine. The flavor combination of the open fire, the clean taste of the sea from the squid, and the earthy minerality of the wine all came together in a delightful unison.
Recipe Notes by Daniel Gallegos
Buy fresh Monterey Bay Squid preferably when the squid boats are out catching them along the coast for the best flavor and delicate texture.
Clean the squid (You can also buy them already cleaned).
Skewer the bodies from the tail side. On a separate skewer, string the legs and tentacles.
Add some salt, pepper and red pepper, and drench with olive oil. Let that sit for about a half an hour.
Have a fire started over a grill and let that cook until there are just coals at a medium heat. Make sure the grill is cleaned. Any previous cooking on this grill could influence the delicate flavors of the squid.
Place the squid on the grill for about 3 minutes. With a kitchen metal tong turn the squid over and let that cook for another 2-3 minutes until done. Try not to overcook the squid. Fresh squid is quite delicate-- a slightly under-cooked squid is better than rubbery squid.
To finish, combine olive oil, paprika, lemon juice and hot pepper into a bowl. Take the squid off of their skewers, mix them in the sauce in the bowl well, and serve.
July 2017
This newsletter marks the 13th year of me having a wine club which means this is my 78th letter. Do I feel old, heck yea! But I also feel very lucky. It is a great privilege to write this letter to you. The wine club that you are part of has become the backbone of my whole existence in this dynamic and intensive industry. I vividly remember writing the first letter to around 20 members that I wrote in my little wharf tasting room. Those were challenging yet wonderful times. I don't think it is any secret that without a wine club small wineries such as my own would not be able to exist. The wholesale model, even with the highest prices allowable, makes a winery minimal to zero profit. So I thank you from the bottom of my heart for your patronage!
The talk on the hill seems to always be about how the abundant rainfall affects the vines. Well, simply put there is a lot of water available for the plants to draw off of so the use of irrigation can be reduced. In some of the vineyards the vigor of the plant is a little too extreme and we will take to the vines with hedgers soon, to stop the apical growth of the plant so that the energy can be focused in on the growth of the fruit. Whether we have drought or abundant rainfall, we have the ability (with irrigation) to focus the fruit into supreme quality. The only time we hold tight with white knuckles is when the flowers are setting. We are past that, and it appears we have a healthy set.
I will be firing up the new bottling line and we will begin to bottle the 2014 Merlot Zayante Vineyard. This was a big harvest for Zayante and we have around 720 cases to do. I think with the new line the 3 of us can do this in 2 days. Then it is on to the best wine I have made to date, our 2014 Cabernet Sauvignon Beauregard Ranch. Both of these wines will be stacked up in the cellar and not released for a minimum of one year. It is a big investment on my part to purchase grapes and pay for all the production expenses: new French oak, bottles, corks, labels and bottling expenses and then plan to sit on the inventory for another year. I do this because this is the right way to do it. My sole goal is to make the best wine I can. I am at a point in my career where the most important thing is to make wines that will rival those of the old country (France). The wines I craft are intended to age for 20-30 years though they are wonderful now. Once the Bordeaux varieties are bottled, I will move on to Zinfandel and Syrah, and then start to prepare for August bottling of Chardonnay and Pinot Noir. My goal is to finish before we start to pick our grapes for sparkling wine. The window to complete this job is plentiful as of now, but when working with machinery we never know if we will have a break down that can cost us precious time. I have been doing lots of preventative maintenance on the equipment, and now it is time to let it all rip.
I have also been making preparations for the upcoming vintage. Our estate wine are all decided on and will continue the consistency that we have appreciated over the years. On the flip side, my tour with Regan Vineyards has come to an end and I will no longer be making the Orange Wine or the Pinot Gris. As much as I love working with the Bargetto family, I have decided that the terroir of Beauregard will become more focused on Bonny Doon. Additionally, the fate of Zayante Vineyard is up in the air. The vineyard and home site of my dear friends Greg and Kathleen is in escrow with a cash offer and they are rather certain the deal will close. As a result, the fruit that I have been buying for the past 18 years may or may not be available to me this year. I have made many wonderful wines from those old dry farmed vines and the working relationship with Zayante Vineyards has been wonderful. I wish the new owners (whoever they are) the most success. I have Zayante wines in barrel through 2017 so it will be roughly 5 years until I am sold out of this inventory.
So, my harvest plans this year have by circumstance pushed me towards a direction that I should be going (thank you fate). 2017 could very well be our first vintage using only estate fruit. This prospect excites me in all honestly. I always see Ben Lomond Mountain in the same light as Ridge, Mt. Eden, Hirsch, and Calera in the sense that they have pinpointed a terroir that they identify with and stick to it with dedication. I believe that these changes will elevate the quality of our product in the short term because I will be able to be more focused on being true to Ben Lomond Mountain.
By the next time I write you a letter, I will have fermentations rolling like crazy. Summer vacation will be over for my kids and the vintage of 2017 will be upon us. I am very excited for this vintage. I plan to continue to make very focused wines that identify their origin and my origin of Bonny Doon, California.
Once again, thank you for your patronage and allowing me to live the dream.
Ryan Beauregard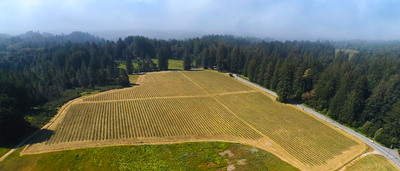 Happy May to you! It appears that the wet season is behind us finally (typed while holding my breath). These next few weeks are a bit of a white knuckled ride: depending on temperature, flowering in grapevines happens between 40 and 80 days past budbreak. The 40 day marker is well past, and I can see the development of the flowers happening more quickly due to the warmer temperatures in the past week. All we can do is wait and pray for no rain during flowering. The next 30 days will dictate the years ahead of us. The past two years, our vineyards were severely damaged by late season rains that happened during the short flowering window. When I say this dictates the years ahead of us, I am referring to the shortage of inventory in the winery caused by a reduced grape harvest. This affects everything from how many people will have jobs, to whether or not we can pay ourselves. Though it is in nature's hands ultimately, the vineyard crew pushes forward on the vine maintenance. The majority of investment each year in the vineyard happens before fruit set (post flowering). Even if the rain damages the crop, the vines must be maintained to prepare for the following year. When you own your vines, you tend them whether they bear fruit or not. One cannot simply throw in the towel on a vintage, because the vines need to be trained for next year. "Next year" is a common thing we say in the vineyards.

"The single most important statement on a wine label is Estate Grown" - Jeffery Patterson, Mount Eden Vineyards Saratoga.
This brings me to a little thought I have been wanting to write about for some time. The subject is 'Estate Grown' and what it means to have this on the label. The technical meaning, which is unofficially synonymous to 'Estate Bottled,' is that a wine must use grapes grown by the producer on their own land or in vineyards that the winery is in complete control of via a long-term lease, and they must be crushed and bottled at the winery. The short answer to why this is important is the producer's long term commitment to the land. In today's market, many wines are made by producers who purchase fruit and then in many cases have wine made for them at another facility. Often these wines are very high quality. Now before I go into this, I am completely aware that in my own case I am very lucky to have three generations of family before me establishing vines. That said, there is a certain level of romance that a winegrower will have with his/her vines that is simply non existent in foraging (constantly looking for fruit) brands. The foraging brands make and sell wine, the estate wineries sell captured terroir. In France, the term Vigneron is used to describe the person in charge of growing grapes to make high quality wine. In general, the Vigneron does not sell the grapes that he/she grows. A Vigneron is someone who cultivates a vineyard for wine making. The word connotes or emphasizes the critical role that vineyard placement and maintenance has in the production of high-quality wine.
Each year looks into the next for the Vigneron. In this case Jim Beauregard has 50 years of commitment to growing wine grapes in Bonny Doon. This long term commitment irrefutably contributes to quality. The Vigneron has learned many lessons from mistakes and knows the climate and soils of his particular point on the globe like the back of his hand. The lessons learned can only be taught to a long term apprentice which in most cases is a family member. The love for the land is uncompromising and unconditional, like a family member. The Vigneron belongs to his vineyard as much as the vineyard belongs to him. He does not grow a product, the Vigneron grows passion.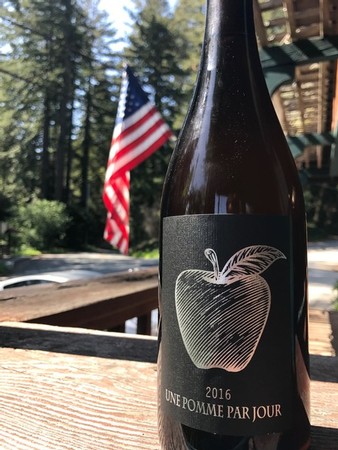 First of all, I call it Sparkling Apple Wine primarily because we are a winery and we have different handling standards for fruit than does a brewery which makes cider.
I am going to go backwards when describing this wine's evolution from tannic bitter apples, even though most times I describe things from the dirt to the glass:
​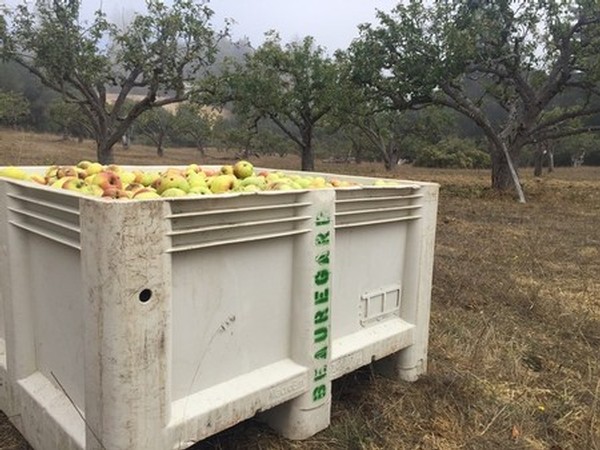 Before we put labels on this wine, it was bottled on March 21st and 22nd. There was a reason to this. Megan and I had this notion that we would make this Apple Wine in a style reminiscent of the old world style (shocker aye). We both agreed that old world style in terms of carbonation meant that we would bottle condition this wine. Bottle conditioning is when you add sugar and yeast in small measurements into a base cuvée. This is where we chose to have this be a cloudy wine, by design. Before the bottling, the wine was sterile filtered because of a small presence of Brettanomyces on the nose. Brett, as we call it in the winemaking world is a spoilage organism, which we came to find out is naturally presenton the skins of apples. It is not something you want to have in a winery, which pushed us to filter the wine. Before the wine went into tanks, it was aged in older Merlot barrels. This recommendation came from a wine buyer in Berkeley at Bay Grape (a must see wine shop). Now we are backing up into the good part.... I bought this small apple shredder from a company online and it arrived nicely. It was capable of macerating around 300 pounds of apples per hour. We (we used loosely) put 10,000 pounds through it over 5 days and let me tell you, it was the most tedious thing I have ever done in winemaking. Once the maceration was complete it went to the press. This part gets good: the apple sauce killed my press and off the press went to Santa Rosa for repairs amidst a busy harvest.
Now about the dirt: These apples were planted circa the great prohibition of alcohol (1920-1933). The apples were hand harvested byour grape picking crew. The intention of these apples from day one was to make brandy and cider (folklore has it). Thus, the variety of apples (Newtown Pippin) have been undesirable for others to purchase because of their tannic and sour nature which is more reminiscent of a grape. For more than 30 years, these apples sat untended and feral. Fast forward to 2015 when a young self-proclaimed "aspiring farmer" named Joe Hewwit (apple joe in my iPhone) appeared on the scene and restored the ancient trees over the course of a few years.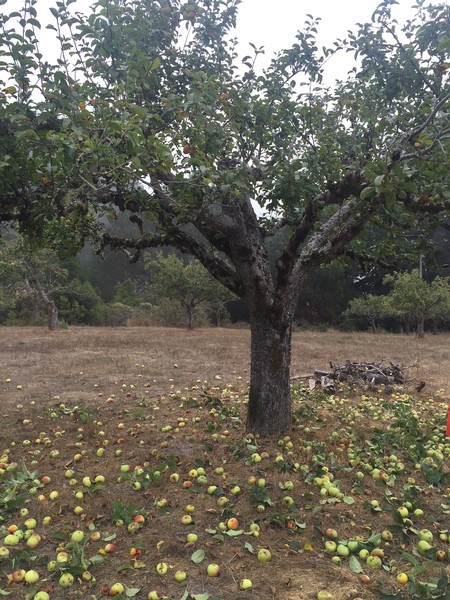 Because of the age of these trees, the gallons per ton are minimal. I suppose the drought may have contributed. Nevertheless, the yield was miserable. Now, luck is our favor (all of us reading this, and me writing this) to have the privilege to enjoy an old world style Sparkling Apple Wine from ancient trees that are nearly a century old. This may be the only vintage; I sure hope you love it like I do. It was a major pain in the ass to make. In light of all the hardships that went into making this wine and the lack of yield, this wine is selling for considerably less than it cost to make.
Cheers,
Ryan
I have a little Rosé Rant.
For years the wine critics of the world have been telling us that Rosé' is best consumed fresh and with very little barrel age.
Many wineries today disrespect this wonderful wine by; bottling it too quickly, selling it too cheap, and presenting it as a wine that should not be cellared. I find that these fads followers are the same as those who followed critics (looking at you Robert Parker) that touted buttery and oaky Chardonnay (barf), Extra extracted and over concentrated Cabernet Sauvignon, and fat jammy Zinfandel (hello headache) and worst of all promoted high alcohol.
Today I thought I'd write you a quick note to let you know that Rosé is and always has been a serious wine and I have one here in particular that I think is totally kick ass. Rosé is a wine that can age. This Rosé was made in a style like a Chardonnay and it is from our prestigious Coast Grade Vineyard. If you are looking for a junkyard Rosé, delete this email now.
I was just on the lawn with my daughters swinging on the swing under the cottonwood trees tasting this wine, and had a wow moment. I came to the tasting room right away to share this with you. I only have 220 bottles left of the 2015 Rosé of Pinot Noir. Additionally, I did not make this wine in 2016 because there was not enough crop to do so.
Now back to that swing...
Cheers
Ryan Beauregard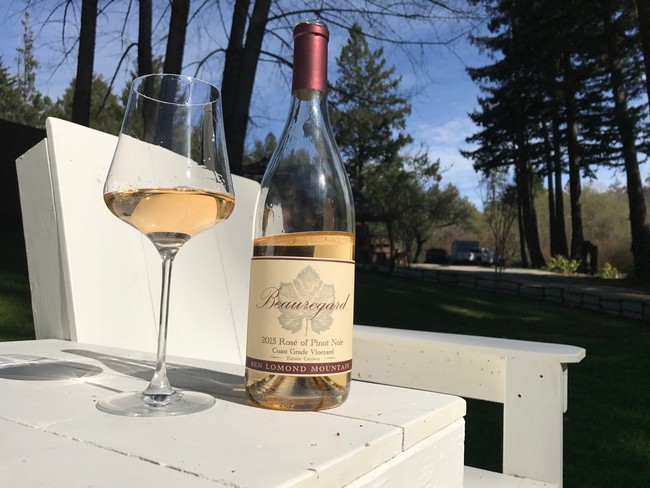 We have recently discovered a document dating our original Beauregard Ranch Vineyard to the late 19th Century. While predominately an orchard for apples, peaches, pears, & plums there was always a vineyard planted as well. In 1906 Quistorf planted "Carbonat, Zinifadell, and Shavenoe". Cabernet Sauvignon, Zinfandel and an old grape known as Charbono. Definitely worth a read for those of you who want to know some of the origins of Bonny Doon and its grape growing history.
Take a look at it here - Quistorf Ranch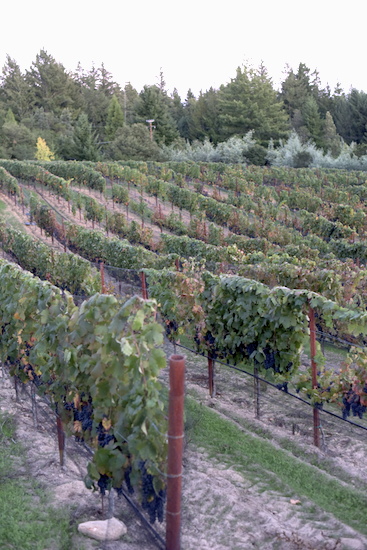 Duffy Jennings wrote a great article about us in the Los Gatos Magazine. If you were curious to learn a little bit more about the history of Beaureagrd Vineyards in Bonny Doon be sure to check it out!
Beauregard Vineyards, No Place Like Home - Los Gatos Magazine

The September wine club party is always one of our favorites here at Beauregard Vineyards. It's a special time of year; grapes are being brought in from the vineyards, we have fermentations raging away in the cellar, and it's some of the most pleasant weather on the mountain as summer ends and fall begins. This year we were excited to offer our guests a glimpse of the behind-the-scenes work that goes into our wines.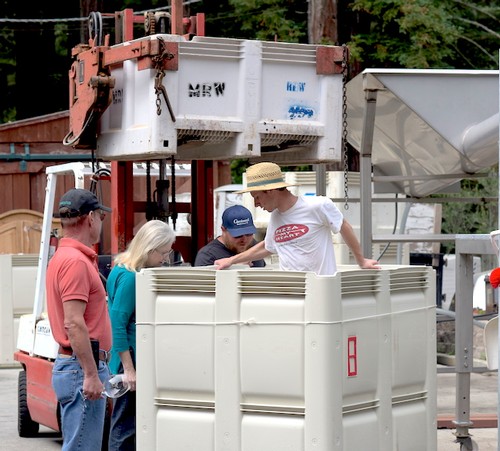 The first pouring station was located up in the cellar, where guests were greeted by the scent of Syrah from Zayante Vineyard fermenting away. While our wine club members sipped on the 2013 Chardonnay at station one, Ryan pressed some Pinot Noir to make his "Happy Wife Rosé," one of Rachel's favorite wines. Club members also got a kick out of seeing Jake foot stomp some whole cluster Pinot Noir. Though the process is a bit more labor-intensive than using the destemming machine, sometimes you just can't beat going old school.
After finishing their Chardonnay, club members wandered down to the redwood grove, where they were served our delicious 2013 Rosé of Syrah along with a plate of amazing food provided by Tabitha Stroup. The food genius behind Friend in Cheeses Jam Co. provided guests with Peruvian pork shoulder tacos, slow braised in oranges, bay Peruvian yellow peppers, onion, and Peruvian white beans (like a fava but smaller), all on a soft corn tortilla, and served on the side with an incredible salad made with organic home-grown heirloom tomatoes from the Beauregarden.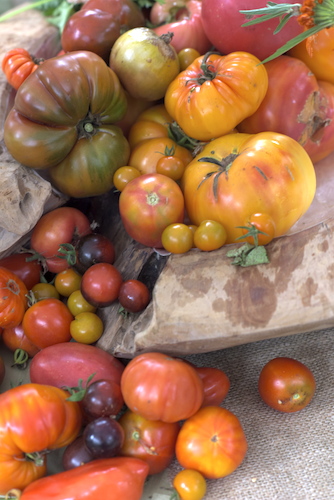 Guests enjoyed their picnic while listening to the groovy sounds of the Matt Conable Band. Inside, they finished at station three, where we were pouring our 2011 Meritage. A blend of 60% Merlot from Zayante Vineyard, and 40% Cabernet Sauvignon from the Beauregard Ranch, this is a perfect wine for any occasion. Drink it soon for the holidays, or hold onto it for years to come.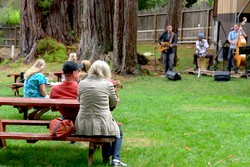 Thanks so much to everyone who turned up for the event! We love our wine club members, and treasure the opportunities that our pick up parties offer us to engage with some of our favorite customers. We hope you enjoy the new releases, and we look forward to seeing you in November, if not sooner.
Enjoying July with the first our 2013 Vintages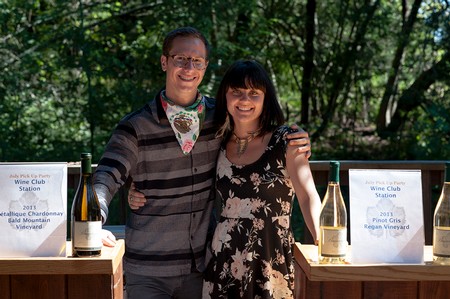 We had the perfect summer weather here in Bonny Doon last weekend for our July Pick Up Party. Our July release included bright, aromatic, whites and our first Pinot Noir produced from the Mount Roberta Vineyard. We drank up the 2013 Chardonnay from the Bald Mountain Vineyard in the stainless steel, Métallique, tradition and our 3rd vintage of 2013 Pinot Gris from the Regan Vineyard. 2013 is quickly showing itself as a killer vintage.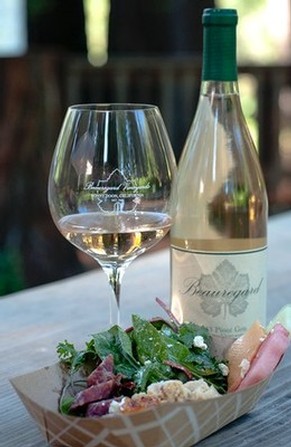 Our chef extraordinaire Tabitha Stroup put together a seasonal picnic style lunch that paired with the bright young whites. Santa Maria Tri Tip crusted in a spicy chili brown sugar with creamy gorgonzola topped with a spicy tomato jelly, heirloom potato salad & a summer melon salad with baby kale and feta cheese.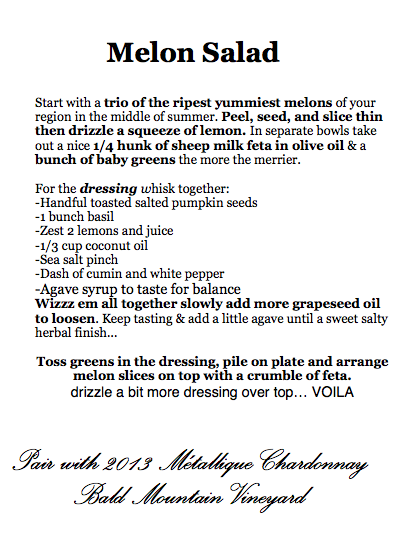 The picnic style lunch let us relax by the creek with the wines and listen to the groovy sounds of the Jewl Sandoval Band. Our wine club members are some of our closest friends and it brings us joy to be able to see our picnic tables full and families enjoying the lawn. Summer is wrapping up and harvest is quickly approaching and when we see you at our next Pick Up Party the crush pad will be busy producing another fantastic vintage from the Santa Cruz Mountains.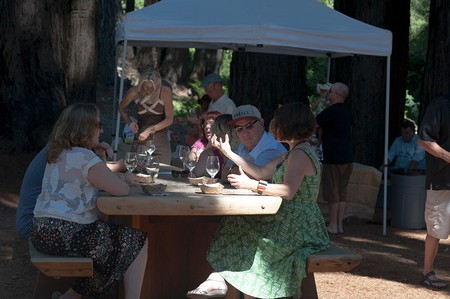 A Summer menu at Beauregard Vineyards
Summer gardens are planted. Grape vines are in full vigor. Here at Beauregard Vineyards we enjoy the long daylight hours by feasting and drinking. Bonny Doon is gifted with an unparalleled microclimate within the Santa Cruz Mountains. It sits above the fog, warmed by abundant sun and cooled by the coast at night. It is a special spot along the California Coast that knows what the Good LIfe is. This became pretty clear to me last weekend during a celebration when Ryan manned the grill. I wanted to share our menu to give a little inspiration for your next BBQ.
This all started a few weeks back when a deer was caught taking advantage of the fresh green foliage of Zayante Vineyard. Unfortunately this is not an uncommon occurrence in vineyards here in the Santa Cruz Mountains. At the Beauregard Ranch we first tried herding them out, but, when all else fails… venison makes a delectable pairing with Cabernet Sauvignon.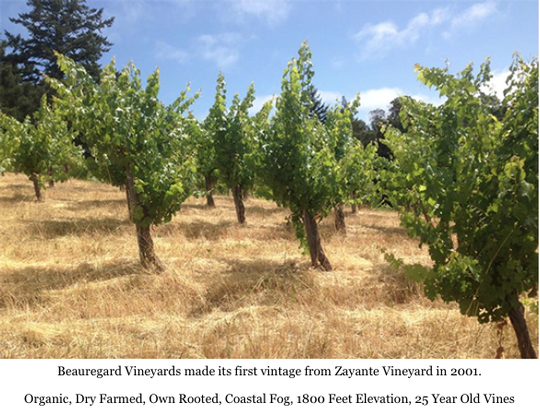 l'apéritif
We started with a sangria by opening 2 bottles of our 2012 dry-style Riesling and 2 bottles of our 2011 late harvest Riesling. We then added choice brandy, fresh picked red fruit (raspberry and strawberry) and mint from the garden.
Drink this sangria while the sun is still high and you need a light refreshing beverage. The mint is the key ingredient here, lifting it into the perfect summer drink.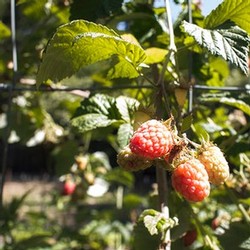 le plat du jour
We had two legs of venison, a birthday, and Father's Day that all came together to kickoff the summer season. The venison soaked in salt brine for 10 days and marinated in Coast Grade Pinot Noir with a saffron rub. Smoked for 12 hours with oak and madrone. The meat was juicy, smoky, and full of flavor.
Living off the land like this is a privilege not enough people enjoy.
plat principal
The main attraction was the pork rib in the homemade raspberry barbecue sauce. Our raspberries were delicious and bountiful this year. We started to harvest the bush early in the morning and ended up with nearly 5 pounds of fruit. While in the garden we also pulled organic garlic and onion. Once in the kitchen we put everything in a food processor and added brown sugar, paprika, red pepper flakes, lemon juice, and balsamic vinegar. Liquefied. This was transferred to the stove stop to reduce for four hours as Ryan carefully crafted the perfect sauce.
vins de terroir
The meats were done. The sun was setting. It was time to open the reds. The 2005's were the all-stars. Personally, I have been dying to try the Beauregard Vineyards 2005 Syrah Zayante Vineyard, with silky tannins and intense deep red fruits. This wine has a leathery complexity that tied perfectly into the raspberry sauce and the ribs.
Next was the 2005 Cabernet Sauvignon Beauregard Ranch which finished with beautiful floral lavender. I never experienced a floral wine like this that balanced with the earthiness of the venison.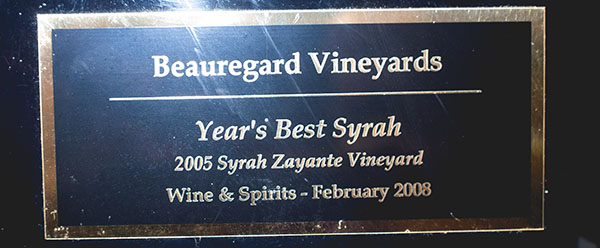 Our little corner of the world is known as the Lost Weekend, and when Ryan started opening up the Pinots, Zinfandel and the magnums I​ knew that getting lost could happen all too easily. But that is what summer is. Evenings that stumble into stars with laughter as Bacchus watches over us from the fire.
July 4th is just around the corner. Before you fire up the grill check what you have in the garden and make sure the cellar is full. Be inspired by the abundance we have around us. Bon Appétit!