July 13, 2018 | Ryan Beauregard
News from the Vine July 2018
I am writing to you from the 4th floor of an apartment in Venice Italy. It is 7am and the boats are bustling through the canals preparing for the day. The heat is coming on already and the humidity is fiercely strong. I have been here for a few days since we arrived here ending our 10 day cruise aboard the Riviera which left from Rome. Our group who joined us for the Beauregard Vineyards cruise appears to have had a blast, I know I did. We all saw countless historic sites along the way, each day disembarking on a new adventure into places I had never heard of. All in all the trip was amazing and I hope that you will consider joining us for the follow up cruise in the year 2020.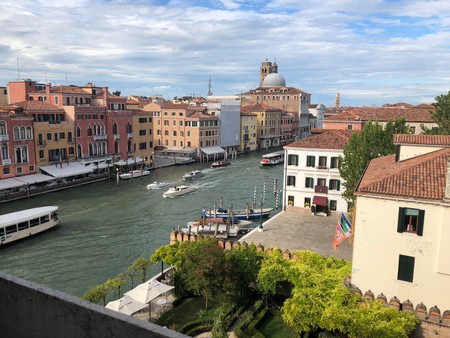 I have been studying the wines as we venture around Europe and have become even more excited about the purity of the wines here. The low levels of new oak are inspiring as it lets the wine's variety shine through rather than be overwhelmed by new oak which seems to be the norm for many California producers. It is also common place for native yeast to be used in the smaller wineries which I find reaffirming. The European winemakers also boast balance in their wines by way of lower alcohol and higher acidity, a recipe that I strongly agree with. Tomorrow we will leave to Paris for a few days before we head into the countryside to go to Champagne and Burgundy. Obviously sparkling wine, Chardonnay, and Pinot Noir are my biggest passions so I am ecstatic to be able to set foot in the motherland of these varietals and to be able to poke around inside vineyards and cellars.
Being able to close down production at my winery for one month was rather difficult. I had to double time it to get a lot of bottling done before we left, and I will have to do the same once we return which will lead all the way into harvest 2018 which I am excited for. Our winery is running at maximum legal capacity which is a meager 20,000 gallons or roughly 100,000 bottles. This is the time of the year where I put the finishing touches on the vintage before the wines go under cork for long term aging and/or consumption. There is a lot of action which includes many semi trucks of bottles coming in and several semi trucks of finished cased goods going out for storage. My least favorite thing to do in the winery is bottling because of its intense attention to detail and grueling repetition. Bottling however, is a craft of its own which many vintners hire out because of the complexities and expense involved with a bottling line. For me however, I could never trust someone to bottle for me as good as I could do it myself so I keep this nasty position as the bottler as my own though I thoroughly despise the process. Bottling is the only part of my job which I consider work, the rest is all passion.
End of an Era (?):
The July wine club offering is all about Zayante Vineyard.
Zayante Vineyard is one of my favorite sites in the Santa Cruz Mountains. Organic, own rooted, and dry farmed is a rarity in California and the potential of this vineyard is serious. I have been singing the Zayante song for two decades and I have made many many successful wines from this site.
The 2014 Syrah and the 2016 Chardonnay are in your wine club selection. These wines are extremely limited and will be 90% sold out after this wine club run. Both wines are spectacular.
Now for some bad news: Unfortunately the future of this vineyard relationship and our ability to make wine from it is still unknown because the vineyard has sold and its new management cannot commit the grapes to me. This is rather upsetting, but it is out of my control. The vineyard sold for a handsome price tag that I could not have ever considered. I am happy for the Noltons who planted and established Zayante Vineyard. I am happy that they are able to retire in style and comfort which they need and deserve. So after 20 great vintages, I suppose it is time to say goodbye to an old friend and wish success to the new operators, whomever they are.
"The single most important piece of information on a wine bottle is if it is Estate Grown/Bottled" - Jeffery Patterson, Mt Eden Vineyards.
These words were spoken to me at a meeting with one of the greatest living legends in California at a meeting and those words resonated with me deeply.
Estate Grown or Estate Bottled simply put means that the winery is the owner of its vines. In terms of terroir, this is important because it shows a long term commitment to the land and the ability to replicate terroir year after year, decade after decade, and generation after generation. In countless ways, this is a serious privilege. Especially in the Santa Cruz Real Estate market which is grossly expensive. With the parting of Zayante Vineyard this importance becomes even more obvious. Without estate vines, the vintner is essentially a terroir vagabond depending on relationships which can run aground for unforeseen and unpredictable reasons. And to this, I pay great gratitude for my family before me who has selflessly held on to some of the best grape growing land on the planet rather than sell it off for an unwieldy fortune.
In closing this letter, I want to thank you once again from my heart for your continued patronage to my family's business and to my personal passion. Because of this wine club, we are able to employ a community of people whom we value greatly. We are able to contribute monetarily to our community which is a treasure to us. We are able to keep a way of life continuing in our mountain community into the 8th decade. I feel blessed for the opportunity to be making wines for you.
From my family to yours,
Ryan Beauregard
Winemaker, 4th generation.
Comments
Commenting has been turned off.