Mussels Event. Jan 28th @ Noon.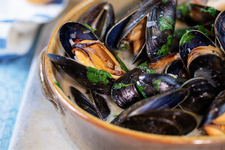 January Saturday the 28th
Steamed Mussels with Bill the Oyster Man
An annual tradition, join us for a hot bowl of steamed mussels with our January new release wines. For an hour and a half we will host our club members in our winery cellar with live music, steamed mussels, and our new club releases wines. This event is RSVP only, limited to 25 people per time slot. $25/pp.