Winter Whites - 3 Pack
Beauregard Ranch Chardonnay Veritcal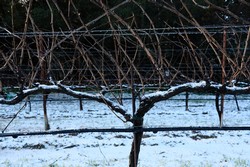 The Wines
1 Bottle Each
2013 Chardonnay Beauregard Ranch
2014 Chardonnay Beauregard Ranch
2015 Chardonnay Beauregard Ranch
A few remarks about cellaring and enjoying Chardonnay
When it comes to aging wine (whether white or red) and having it taste good, it rarely happens randomly. In wine lingo, we say that the wine must have the structure to age. The structure of a wine is predominately a combination of its acidity and its tannins. The cool coastal climate gives our Chardonnay a strong back bone of acidity that keeps it cellar worthy for years. The quality of the cellar is also important. We hold our wines at consistent 55 degrees, away from light and vibrations, and cork down. We give our wines the best possible environment to cellar in and then give you the opportunity to enjoy them.
As Chardonnay ages the fruit forward character begins to fade and the secondary notes of nuts, spices, marzipan, and caramel begin to show. An aged Chardonnay should not be consumed refrigerated. It is best consumed at the cellar temp of 55 degrees or a cool room temperature. Serving a wine too cold the flavor and complexity gets muted.
Enjoy the wines together with friends and a cheese plate, on their own, or with your favorite winter comfort food
Vineyard Notes
The Beauregard Ranch vineyard site was part of an original 160 acre vineyard and apple orchard planted in the early 1900's. The vineyard was abandoned during prohibition and then resurrected in 1949 when retired Sherrif's deputy Amos Beauregard purchased the property. It sits at an elevation of 1700 to 1850 feet on a southwest facing slope. Monterey Bay marine influences combine with sandy loam soil to produce wines with minerality and striking acidity. Plantings: Four acres Pinot Noir, clones: Pommard, 667 & 115. One acre Chardonnay, clone 4. Three acres Zinfandel, clone Primitivo. Four acres Cabernet Sauvignon, Dijon clone.

Product Reviews