July Wine Club Sail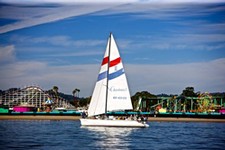 Come sail away with Beauregard Vineyards on Monday July 17th from 6:30 to 8:30pm, while enjoying Beauregard wines, cheese and the Santa Cruz coastline. The Chardonnay II is a 70 foot luxury sailing yacht. The combination of elegance and speed give the Chardonnay II a unique quality that will make your cruise and unforgettable experience.
Please meet on the Aldo's side of the Santa Cruz Harbor at the FF dock (all the way to the end of the parking lot). Please arrive at least 15 minutes prior to the sail, and make sure to wear soft soled shoes and bring plenty of layers. See you there!
Limit 4 tickets
COVID-19 SAFETY PRECAUTIONS
Social Distance
-Please keep a 6ft distance between your group and other groups both on and off the boat at
all times.
-We will have 6ft markers both on the dock and on the boat for your reference.
-We have reduced our capacity in order to ensure a proper amount of distance is available for
all of our guests.

Face Coverings
-Face coverings are required during check-in, loading, sailing, and unloading from the vessel.
-If you are able to maintain a 6ft+ distance between other groups on board while sailing then
you may remove your mask. Masks must be worn while crew is serving you food and beverage.
-For the safety of our employees, guests and community, if you are unable to abide by our face
covering rules then we kindly ask that you reframe from attending the sail.
Sanitation
-We will be sanitizing the entire office and boat before, during and after each charter.
-Bathrooms on the vessel will be sanitized between each use.
-We will have hand sanitizer located in multiple areas on the vessel for customer and crew use.
Carry-on Items
-Please only bring absolute necessities on board. We strongly discourage stowage of bags as the
cabin is off limits to guests at this time.
-Employees are available to assist customers who need to store items below.
-Please do not go below deck without consent of a crew member.
-No hard coolers or large canvas coolers are allowed as the cabin is off limits to guests at this
time. Please only bring small canvas coolers that can be kept with you throughout the sail.
Food & Beverage Service
-Captain and Crew will be wearing masks and gloves at all times.
-Customers must have on their mask in order to be served.
-We will be serving a limited selection of food and beverage for the foreseeable future.
Restroom Use
-Please do not go below deck without consent of a crew member.
-Crew will sanitize the restroom after each use.
Product Reviews
Jacqueline Wright
(Jul 3, 2015 at 11:17 AM)
I love the wine sails!!!