Outstanding in the Vines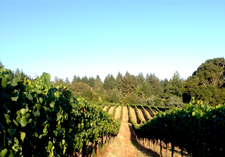 Join us for an unforgettable experience. Re-connect to the vines and the origin of the wine in the glass with winemaker Ryan Beauregard. Work up an appetite as we tour the vineyard, taste through rare library wines, and enjoy a full course summer feast curated by Empire Grade Purveyors.
Event starts at 4PM and will last about 3 hours for the tour and dinner. Detailed instructions of the location of the event will be emailed to ticket holders.