2017 Coast Grade 2 Pack
2 bottle pack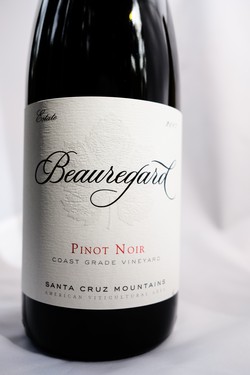 Tasting Notes
The wine has a dark ruby red core moving to light garnet hues on the rim. The nose is well balanced and highly perfumed with the classic Santa Cruz Mountain aromatics we all adore. The nose has aromas of preserved black cherry, ripe strawberry, pine forest, wild herbs, and various exotic oak spices which will integrate more with bottle age. The palate is nearly full bodied with flavors which mirror the nose with rich fruit flavors of strawberry, ripe black cherry, pine resin, forest floor, vanilla bean and oak spices. This wine is delicious now and ideal for drinking upon release and over the next 3-5 years. I anticipate this wine will peak between 2023 and 2025, if kept in a cold dark place it will age longer. If drinking now decanting is not needed, but in my opinion serving temperature is key. Ideally serve in large Burgundy stems at cellar temp or just above depending on your preference (55-65F).

Vineyard Notes
Coast Grade Vineyard, located in Bonny Doon, California is owned and farmed by Jim Beauregard. Planted in 2008, the 17 acre vineyard sits at an elevation of 1,238 to 1,350 feet on a southwest facing slope. Monterey Bay influences combine with sandy loam soil and underlaying limestone to produce wines with minerality and striking acidity.

Winemaker Notes
Vintage started Labor Day weekend amidst the most severe heat spike in my memory. Harvest started roughly one hour before dawn and lasted hours past dusk. I was able call on a farmer friend whom I have known since childhood to line up extra pickers. Over Labor Day weekend we had a picking crew of 65 men and women. We picked 84 bins of Pinot Noir over two days which is something I did not think was possible. My commitment to crafting a specific kind of wine forced me to pull in the crop fast to avoid potential damage to the fruit. Many vineyards were destroyed by the heat. On that weekend the winery transformed from quiet to chaotic like a bomb went off. The temperatures on the crush pad sustained 110 degrees for roughly 3 full days. It was beyond miserable when you take into account we had to work at a sprinting pace the whole time to bring in the fruit and we had no cover from the sky, just our sun hats and t-shirts. The following week we moved in on Chardonnay. The heat spike did no favors for the Chardonnay either. The brix (percentage of fermentable sugar - 1 gram of sucrose in 100 grams of solution) quickly rose from 19 brix to 22 brix in one week which I have never experienced. Our intention is to make a fresh, acidic, and mineral driven wine so we had to move swiftly on this harvest too. Our press ran 12 hours a day for several days to complete the juicing of the Chardonnay.

Product Reviews