2017 Cabernet Sauvignon 3L
Beauregard Ranch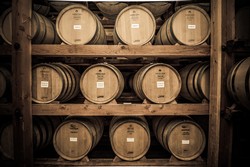 This is an opportunity for you to purchase the 2017 Cabernet Sauvignon from the Beaureagrd Ranch at a wine club exclusive 50% futures discount. The wine will retail at $120.00 per bottle upon release. This wine is built to last 40 years in bottle, so consider this when taking advantage of the discount opportunity.
New to wine Futures? Futures give you the chance to purchase a wine at a discounted rate before the final wine is bottled giving you the opportunity to stock your wine cellar. We expect this wine to be available November 2019.
The Beauregard Ranch vineyard site was part of an original 160 acre vineyard and apple orchard planted in the early 1900's. The vineyard was abandoned during prohibition and then resurrected in 1949 when retired Sherrif's deputy Amos Beauregard purchased the property. It sits at an elevation of 1700 to 1850 feet on a southwest facing slope. Monterey Bay marine influences combine with sandy loam soil to produce wines with minerality and striking acidity. Plantings: Four acres Pinot Noir, clones: Pommard, 667 & 115. One acre Chardonnay, clone 4. Three acres Zinfandel, clone Primitivo. Four acres Cabernet Sauvignon, Dijon clone.
Wine Specs
Appellation
Ben Lomond Mountain
Product Reviews