---
831.600.7402
Photogallery rendered here.
The Slow Coast Wine Bar is located in the tiny beach community of Davenport, CA right along side the famous CA-1. Come for the wine and stay for the views.
THE WINE BAR IS OPEN
Thursday - Monday // Opens 1PM & Last Call 7:30PM
CLUB HOUR
Complimentary 3 wine flight for club members
5PM - 6PM
To reserve a table please email Davenport.Winebar@beauregardvineyards.com

French Bistro Pop-Up
Friday, October 29th
Prepared by chefs Chad Hyatt and Michael Miller
$55/pp. Wine not included.
Reservations strongly encouraged. Walk-ins will be taken only if seating is available.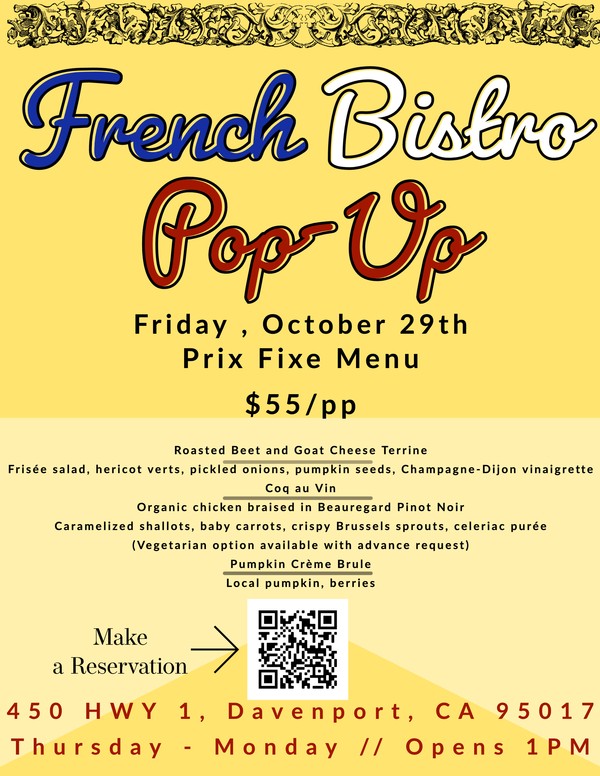 Oyster Flight Nights
Parker Presents: Bill Oysterman. Flight of 8 Oysters featuring different locations and growing styles. $25 for a flight of oysters.Taste the terroir of the ocean through a flight of oysters.

Friday, November 5th | 4:30-7:30pm
Friday, November 19th | 4:30-7:30pm
Reservations not required. To reserve a table please email us.
LIVE MUSIC
Friday, October 8th | 4:30-7:00pm | Sandy Mountain
Saturday, October 23rd | 5:00-7:00pm | Jazz Night with Maple Top Duo
Saturday, October 30th | 5:00-7:00 | Wonderstill
Saturday, November 20th | 5:00-7:00pm | Matt Contable
Saturday, November 4th | 5:00-7:00pm | Jazz Night with Maple Top Duo
Friday, December 10th | 5:30-7:30pm | Wonderstill
Saturday, December 11th | 5:00-7:00pm | Matt Contable