Our Tasting Room

Open Daily from 10AM to 5PM
---
Visit our Tasting Room
Let our wine educators guide you through a tasting flight and treat yourself to the highest qualitiy wines that the Santa Cruz Mountains has to offer. Our family friendly winery is a perfect getaway for all occasions, especially if you are looking for things to do in Santa Cruz or near Davenport.
No reservation required (for groups under 8 people). Open daily from 10AM to 5PM we offer a seasonal tasting menu starting at $15 per person.
Learn more about the wine tasting experience→

---
The "Lost Weekend"
The historic building at 10 Pine Flat Road, now our tasting room, has served as a home stage for a cast of local characters over the last hundred years.
It began as a general store before the turn of the century. In 1950, the general store morphed into the notorious "LOST WEEKEND" bar, famous for being run by Pet Rock creator Gary Dahl. The small beer and wine concession became a gathering place for a good number of local residents; as well as a popular stopping place for weekend travelers exploring California's scenic HWY 1.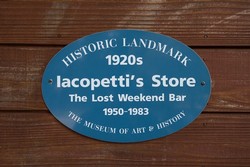 The LOST WEEKEND served as the local watering hole & community meeting area, at times referred to as the 'civic center' or 'cultural center', by its loyal patrons. In 1983, Randall Graham purchased the property and within a few years established Bonny Doon Vineyard. His tasting room operated at this location for 25 years. In 2008, the Beauregard Family (whose roots in the wine industry in Bonny Doon date back to 1949), purchased the historic property.